1.13
International comparisons of prevalence of smoking
An estimated 1.25 billion adults worldwide are smokers,1 and international findings that 20% of young teenage school students are also current tobacco users (in one form or another) confirm that tobacco-caused illness and death will continue for many decades to come.2,3
1.13.1
International comparisons of adult smoking prevalence
In general, the prevalence of smoking is declining in industrialised countries in Northern and Western Europe, North America and the Western Pacific region, and on the increase in some countries in Asia, South America and Africa.1 As global patterns in tobacco use change, the burden of death can be expected to shift dramatically from the developed world to less wealthy countries. It has been estimated that over the next two decades, 70% of tobacco deaths will be in developing countries.4 About 80% of the world's smokers now live in low and middle income countries, at least in part due to a lack of adequate tobacco controls.5 The marketing practices of the tobacco industry in developing countries are particularly aggressive,6–8 and the international tobacco industry's efforts to subvert tobacco control activities in developing countries are well documented. Although the tobacco industry has publicly acknowledged the health consequences of smoking and is required to conform to stringent regulation in more privileged nations,6 there is ample evidence that it deliberately exploits the comparative lack of controls in less developed countries.9,10 As more countries start to implement provisions of the WHO Framework Convention on Tobacco Control,11 (see Chapter 18) it is to be hoped that these activities will be effectively curbed.
A paradigm illustrating the typical progression of tobacco use worldwide, first proposed by Lopez and colleagues12 and later adapted by the WHO,6 is reproduced in Figure 1.13.1. Many (but not all) countries' experiences of patterns of tobacco use fit this model.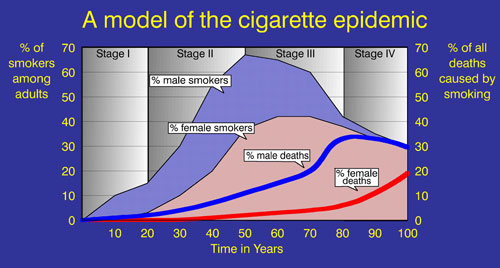 Figure 1.13.1
Four stages of the tobacco epidemic
Source: Lopez et al12 (Reproduced with permission from BMJ Group).
Stage I of the model is marked by a low smoking prevalence (below 20%), generally limited to males and accompanied by little evident increase in tobacco-caused chronic illness. Countries at stage I have not yet become major consumers in the global tobacco economy, but represent untapped potential for the tobacco industry. Some countries in sub-Saharan Africa fit into this stage in the model.6 The importance of tobacco farming in some countries in the region (e.g. Zimbabwe and Malawi) may act as a deterrent to the introduction of tobacco control policies. Zimbabwe is among the largest producers of tobacco in the world and is a major exporter; concerns about the health consequences of tobacco use are not high on the national agenda.13
In stage II of the paradigm, male prevalence of smoking has soared to more than 50% in men, and women's smoking rates are now increasing. Uptake of smoking is occurring at an earlier age, and, although there is now evidence of increased lung cancer and other chronic illness due to smoking among men, public and political understanding of and support for tobacco control initiatives is still not widespread. Countries that fit into this transitional stage include Japan, some nations within the Southeast Asian, Latin American and North African regions, and to a lesser extent, China. (The case of China is discussed further below).6
Stage III of the epidemic has been reached when smoking prevalence peaks and begins to decline in both sexes, although deaths caused by smoking continue to increase because of earlier high smoking rates. Health education programs are better developed, and smoking becomes less accepted among the more educated groups of society. Smoking becomes less socially acceptable and the climate is increasingly conducive to the introduction of tobacco control policies. Certain countries within Eastern and Southern Europe and Latin America are at this point on the continuum.6
Evolution into stage IV is marked by a continued distinct but gradual downturn in smoking prevalence among both males and females. Male deaths from smoking begin to decline, but female death rates continue to rise, reflecting earlier smoking patterns. Parts of Western Europe, the UK, the US, Canada, New Zealand and Australia are at various points on the continuum in the fourth stage of the tobacco epidemic.6 However, comprehensive and continually monitored public health strategies remain critical to maintain and reinforce declines in smoking prevalence.6
As noted above, there are some countries for which the paradigm devised by Lopez and colleagues in Figure 1.3.1 does not fit. This is especially so in nations in which female smoking rates have not shown a pattern of steady increase in stage II, despite high prevalence among males, most likely due to social or cultural constraints. For example, men in China and Indonesia have maintained high rates of smoking for many years, while female prevalence has remained in single digits. Nevertheless the WHO model described above does provide a useful framework into which many countries can be placed, and may enable countries currently at an earlier stage in the paradigm to recognise their situation, learn from international experience and introduce strong public health measures that will reduce the impact of tobacco on their population. Singapore provides a successful example of early intervention. In the early 1970s, while at stage II of the model, the Singaporean government initiated a series of tobacco control measures which capped smoking prevalence at a relatively low level, effectively averting the later stages of the epidemic. Thousands of tobacco-caused deaths in Singapore have been prevented as a result of this early, decisive action.12
Tables 1.13.1 and 1.13.2 present statistics on smoking prevalence from a number of different countries. Figure 1.13.2 shows prevalence data collected by the Organisation for Economic Co-operation and Development (OECD) of its member countries,14 and the data on prevalence on less developed countries in Table 1.13.1 are taken from a wide variety of sources compiled for The Tobacco Atlas (Third Edition) published by the American Cancer Society.1 These tables are provided in order to give a general global overview. It is important to note that data sets between countries are not directly comparable, due to differences in sampling (most crucially the year of the survey) and definitions (daily, regular (daily plus weekly) or current (daily, weekly or less than weekly) smokers), and that overall prevalence figures such as those provided by the tables may mask higher smoking levels among particular sub-groups of the population (most notably men in comparison to women). Further, studies which only take into account the smoking of manufactured cigarettes will underestimate tobacco use in countries where tobacco is widely used in other forms, such as in pipes, hand-rolled leaves or as chewing tobacco. This is a key consideration in countries where alternative methods of tobacco use are prevalent, such as in Sweden15 and throughout much of Southern and Southeast Asia.16,17 The interested reader is referred in the first instance to the primary sources, which explain the parameters of each study.
The global impact of death and disease caused by tobacco smoking is discussed in Chapter 3, Section 3.36.
Table 1.13.1
Prevalence of tobacco use among adults in selected other countries—males and females, age-standardised†
Albania

41

4

Bangladesh

47

4

Cambodia

41

7

Chile

42

34

China

59

4

Cook Islands

36

20

Ethiopia

8

<1

Fiji

24

5

Gambia

29

3

India

33

4

Indonesia

66

5

Islamic Republic of Iran

30

6

Israel

31

18

Jordan

63

10

Kazakhstan

43

10

Kenya

27

2

Malaysia

54

3

Mauritius

36

1

Myanmar

47

14

Namibia

39

11

Nauru

46

52

Nigeria

13

1

Papua New Guinea (crude rates)

46

28

Philippines

42

10

Russian Federation

70

27

Samoa

58

23

Singapore

26

5

South Africa

28

9

Sri Lanka

30

3

Thailand

40

3

Ukraine

64

23

United Arab Emirates

17

3

Tanzania

25

4

Vanuatu

49

8

Vietnam

46

3

Zimbabwe

26

4
* Year of study reported, and definition of 'adult' and 'smoker' varies between countries. For further information, refer to primary sources cited by The Tobacco Atlas, which provides prevalence for over 190 countries.
† Percentages are rounded
Source: The Tobacco Atlas (Third Edition).1
Table 1.13.2
Current use of any tobacco product* among school students aged 13–15 by sex and World Health Organization region, 2000–2007
African region

14

5

8

Americas region

14

15

14

Eastern Mediterranean region

7

2

5

European Region

21

17

19

Southeast Asia region

10

2

6

Western Pacific region

19

8

13

Total

12

7

10
* Current use is defined as any use during the past 30 days. Any tobacco product includes cigarettes, chewing tobacco, snuff, dipping tobacco, cigars, cigarillos, little cigars, pipes, bidis, waterpipes or betel nut combined with tobacco.
† Percentages are rounded
Source: Warren et al 2008.2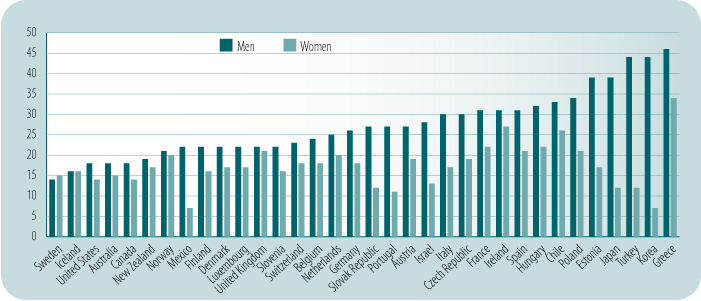 Figure 1.13.2
Prevalence of daily smoking among population aged 15+ in OECD countries, males and females
Note: Percentages are rounded and appear to have been adjusted to take into account the differing age structures of populations in each country
Prevalence figures for Australia differ from those reported in the National Drug Strategy Household Surveys (NDSHS), which are based on the population 14 (rather than 15) and over. They also differ from the figures shown in Table 1.3.2 which has recalculated NDSHS prevalence estimates for the population aged 18+, defining current smoking as at least weekly use of tobacco
Source: OECD Health14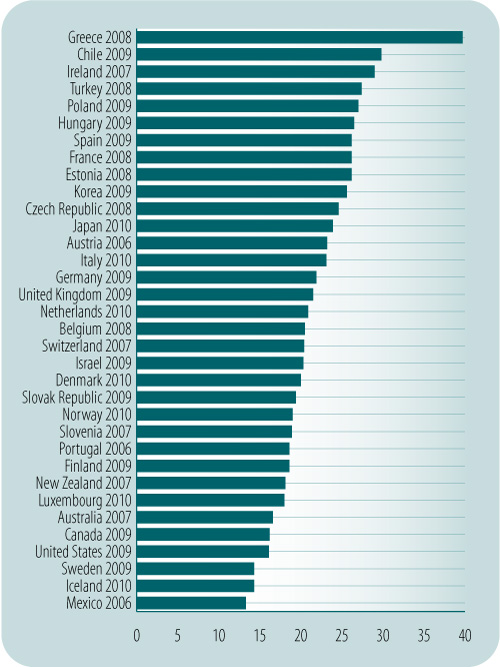 Figure 1.13.3
Prevalence of daily smoking among population aged 15+ in OECD countries
Note: Percentages are rounded and appear to have been adjusted to take into account the differing age structures of populations in each country
Prevalence figures for Australia differ from those reported in the National Drug Strategy Household Surveys (NDSHS), which are based on the population 14 (rather than 15) and over. They also differ from the figures shown in Table 1.3.2 which has recalculated NDSHS prevalence estimates for the population aged 18+, defining current smoking as at least weekly use of tobacco
Source: OECD Health14
1.13.2
International comparisons of smoking prevalence in children
The Global Youth Tobacco Survey (GYTS) is a joint project of WHO, the US Centers for Disease Control and Prevention, the Canadian Public Health Association and most WHO member states. The GYTS is a schools-based survey of teenagers aged 13–15, which has enabled consistent data collection from 395 sites encompassing 131 countries, plus the Gaza Strip and the West Bank.2 Table 1.13.2 summarises some of the available data by WHO region, for the years 2000–2007.
Overall, 10% of surveyed students had used some form of tobacco product in the 30 days prior to the survey. Smoking rates were highest in the European regions (19%) and lowest in the Eastern Mediterranean regions (5%). The differences between boys' and girls' smoking rates were statistically significant in the African, Eastern Mediterranean, Southeast Asian and Western Pacific regions, while no significant differences were reported by sex in the Americas and European regions (Table 1.13.2). In many countries the difference between boys' and girls' smoking rates was narrower than expected, reflecting increased uptake of smoking in girls.2
The GYTS also reported on susceptibility to taking up smoking, by asking never-smokers whether they would smoke a cigarette if it were offered by their best friend, and whether they thought they might smoke a cigarette within the next year. By these measures, 19% of respondents were susceptible to commencing smoking within the next year. Teenagers in the European region had the highest susceptibility (30%), and teenagers in the Western Pacific region the lowest (13%).2
National data have also been reported for New Zealand, Canada, Ireland, England and the US. These data are of interest since these countries have adopted, to a greater or lesser extent, tobacco control measures which are similar to those operating in Australia. Key findings from some international surveys are reported briefly here and interested readers should refer to the primary sources for further information. Due to methodological differences, it should be noted that these data are not directly comparable with Australian data or with each other.
In New Zealand in 2010, a survey of Year 10 students (aged 14–15) found that 10% of respondents were regular (daily, weekly or monthly) smokers. Overall, 5.5% of respondents aged 14–15 were daily smokers in 2010. More than 64% of students had never smoked.18
Results from the 2008–09 Canadian Youth Smoking Survey (YSS) indicate that 3% of youth in grades 6-9 reported that they were current smokers, a figure unchanged from 2006–07 but up from 2% in 2004–05. For youth in grades 10–12 however, the 13% of youth who reported that they were current smokers was a statistically significant increase from 2006–07 when the rate was 11%. This was a reflection of an increase in current daily smokers and a concurrent decrease in less frequent smoking. The prevalence of youth who reported that they had never tried smoking remained unchanged for both grades 6–9 (78%) and grades 10–12 (52%).
Ireland's Health Behaviour in School-aged Children Survey 2006 reported that 15% of 10–17 year olds were current smokers.19
A schools-based study in England showed that in 2010, 5% of 11–15 year olds smoked regularly (at least once a week).20
The Monitoring the Future Study from the US reported that in 2009, 19.5% of high school students had smoked during the 30 days before the survey including 13.5% of students in Grade 9, 18.3% of students in Grade 10, 22.3% of students in Grade 11 and 25.2% of students in Grade 12. Daily smoking was reported by 7.7% of Grade 9 students, 8.9% of Grade 10 students, 13% of Grade 11 students and 16.3% of Grade 12 students.21 Figures for 2010 and 2011 indicate a continuing decline.22
1.13.3
Socio-economic status: international comparisons
As discussed in Section 1.13.1, the timing, duration and magnitude of the smoking epidemic has varied significantly from one country to another.23 While westernised countries such as the US, Australia and Canada have been through all four stages of the epidemic and are now experiencing declining prevalence rates and boast sophisticated tobacco control measures, countries in regions such as Southeast Asia and North Africa are currently in the second stage, with high rates of male smoking and lower (but increasing) levels of female smoking.12 The different stages of the tobacco epidemic also vary in terms of socio-economic inequality and smoking.
For example, countries currently at stage II of the epidemic are characterised by little difference between socio-economic groups, if not higher smoking among upper classes,12 while the opposite is true in countries such as Australia, where smoking is higher among lower socio-economic status (SES) groups and lower among higher SES groups.
Smoking prevalence data from 19 European countries between 1998 and 200424 indicate that the interaction between socio-economic status and smoking varied quite widely between Northern and Southern Europe, especially among women. This study found that different regions of Europe were experiencing different stages of the tobacco epidemic, likely to be due to variance in socio-cultural processes related to gender empowerment occurring across Europe.
A study examining the association between SES and smoking among immigrants to the US found that being foreign-born or a second generation immigrant had a protective effect against smoking across all SES groups, but most markedly among those in the lowest SES group.25 The authors speculated that differences in the smoking epidemic between country of origin and the US might help explain such a pattern among US immigrants, with those countries in stage II of the epidemic (as described above) likely to have similar smoking rates among different socio-economic classes.
References
1. Shafey O, Eriksen M, Ross H and Mackay J. The tobacco atlas, 3rd edn. American Cancer Society, 2010. Available from: http://www.cancer.org/AboutUs/GlobalHealth/CancerandTobaccoControlResources/the-tobacco-atlas-3rd-edition
2. Warren C, Jones N, Eriksen M and Asma S for the Global Tobacco Surveillance System (GTSS) collaborative group. Patterns of global tobacco use in young people and implications for future chronic disease burden in adults. The Lancet 2006;367(9512):749–53. Available from: http://www.ncbi.nlm.nih.gov/pubmed/16517275
3. Warren CW, Jones NR, Peruga A, Chauvin J, Baptiste J-P, Costa de Silva V, et al. Global youth tobacco surveillance, 2000–2007. Morbidity and Mortality Weekly Report 2008;57(SS01):1–21. Available from: http://www.cdc.gov/mmwr/preview/mmwrhtml/ss5701a1.htm
4. Hammond SK. Global patterns of nicotine and tobacco consumption. Handbook of Experimental Pharmacology 2009(192):3–28. Available from: http://www.springerlink.com/content/t353k255747342h6/
5. World Health Organization. The world health report 1999: making a difference. Geneva: World Health Organization, 1999. Available from: http://www.who.int/whr/
6. Shafey O, Dolwick S and Guindon G, eds. Tobacco control country profiles. Atlanta, GA: American Cancer Society, World Health Organization, International Union Against Cancer, 2003.
7. Bansal R, John S and Ling PM. Cigarette advertising in Mumbai, India: targeting different socioeconomic groups, women, and youth. Tobacco Control 2005;14(3):201–6. Available from: http://tc.bmjjournals.com/cgi/content/abstract/14/3/201
8. Mackay J, Eriksen M and Shafey O. The tobacco atlas, 2nd edn. Washington: The American Cancer Society and Union International Contre Cancer, 2006. Available from: http://www.cancer.org/docroot/AA/content/AA_2_5_9x_Tobacco_Atlas.asp
9. World Health Organization. Tobacco company strategies to undermine tobacco control activities at the World Health Organization. Report of the Committee of Experts on Tobacco Industry Documents. Geneva: World Health Organization, 2000. Available from: http://www.who.int/tobacco/en/who_inquiry.pdf
10. Yach D and Bettcher D. Globalisation of tobacco industry influence and new global responses. Tobacco Control 2000;9(2):206–16. Available from: http://tobaccocontrol.bmj.com/cgi/content/abstract/9/2/206
11. WHO Framework Convention on Tobacco Control. Geneva: World Health Organization, 2003. Available from: http://www.who.int/tobacco/framework/en/
12. Lopez A, Collishaw N and Piha T. A descriptive model of the cigarette epidemic in developed countries. Tobacco Control 1994;3:242–7. Available from: http://tobaccocontrol.bmj.com/cgi/reprint/3/3/242.pdf
13. Asma S and Pederson L. Tobacco control in Africa: opportunities for prevention. Tobacco Control 1999;8:353–4. Available from: http://tobaccocontrol.bmj.com/cgi/content/full/8/4/353
14. Organization for Economic Co-operation and Development. OECD Health Data 2011—Frequently Requested Data. Paris: 2011 [viewed 6 January 2012] . Available from: http://www.oecd.org/document/16/0,3746,en_2649_34631_2085200_1_1_1_1,00.html
15. Foulds J, Ramstrom L, Burke M and Fagerstrom K. Effect of smokeless tobacco (snus) on smoking and public health in Sweden. Tobacoo Control 2003;12:349–59. Available from: http://tc.bmjjournals.com/cgi/content/abstract/12/4/349
16. National Cancer Institute and Stockholm Centre of Public Health. Smokeless tobacco factsheets. Prepared for the 3rd International Conference on Smokeless Tobacco. Atlanta, Georgia: Centers for Disease Control and Prevention, 2002. Available from: http://cancercontrol.cancer.gov/tcrb/stfact_sheet_combined10-23-02.pdf
17. World Health Organization and International Agency for Research on Cancer. IARC monographs on the evaluation of carcinogenic risks to humans. Vol. 85: Betel-quid and areca-nut chewing and some areca-nut-derived nitrosamines. Summary of data reported and evaluation. Lyon: IARC, 2004. Available from: http://monographs.iarc.fr/ENG/Monographs/vol85/volume85.pdf
18. ASH New Zealand. National Year 10 ASH snapshot survey, 2010 Report for. Auckland, New Zealand: Ministry of Health, Health Sponsorship Council and Action on Smoking and Health, 2011. Available from: http://www.ash.org.nz/site_resources/library/ASH_Year_10/ASH_Year_10_Snapshot_Survey_2009.pdfhttp://www.ash.org.nz/pdf/Reportof2006Year10Survey_FINAL.pdf
19. Department of Health Promotion. Health Behaviour in School aged Children Survey 2006 (HBSC). Minister launches Health Behaviour Study for School Children [Press Release] 23 August Galway: National University of Ireland, 2007. Available from: www.nuigalway.ie/hbsc
20. Fuller E. Smoking, drinking and drug use among young people in England in 2010. A survey carried out for The Information Centre for health and social care by the National Centre for Social Research and the National Foundation for Educational Research. London: The Information Centre, 2011. Available from: http://www.ic.nhs.uk/statistics-and-data-collections/health-and-lifestyles-related-surveys/smoking-drinking-and-drug-use-among-young-people-in-england/smoking-drinking-and-drug-use-among-young-people-in-england-in-2010
21. Eaton D, Kann L, Kinchen S, Shanklin S, Ross J, Hawkins J, et al. Youth risk behavior surveillance—United States, 2009. Morbidity and Mortality Weekly Reports (Surveillance Summaries) 2010;59(5):1–142. Available from: http://www.cdc.gov/mmwr/preview/mmwrhtml/ss5905a1.htm
22. Johnston LD, O'Malley PM, Bachman JG and Schulenberg JE. Decline in teen smoking resumes in 2011. Ann Arbor, Michigan: University of Michigan News Service, 2011. Available from: http://www.monitoringthefuture.org
23. Lopez AD, Collishaw NE and Piha T. A descriptive model of the cigarette epidemic in developed countries. Tob Control 1994;3:242–7. Available from: http://tobaccocontrol.bmj.com/cgi/reprint/3/3/242.pdf
24. Schaap M and Kunst A. Monitoring of socio-economic inequalities in smoking: learning from the experiences of recent scientific studies. Public Health 2009;123(3):103–9. Available from: http://www.publichealthjrnl.com/article/PIIS0033350608003077/fulltext
25. Acevedo-Garcia D, Pan J, Jun H-J, Osypuk TL and Emmons KM. The effect of immigrant generation on smoking. Social Science and Medicine 2005;61:1223–42. Available from: http://www.ncbi.nlm.nih.gov/pubmed/15970233