10.5
Major importers operating in the Australian market
Apart from the three major companies listed in Chapter 10, Section 10.4, a small number of companies operate within Australia as distributors of imported cigarettes and other tobacco products, and smokers' requisites such as cigarette papers and filters for roll-your-own tobacco users.
10.5.1
Stuart Alexander Pty Ltd
Stuart Alexander is an importer, marketer and distributor for tobacco products and a range of packaged food products. Stuart Alexander imports and markets tobacco products for Scandinavian Tobacco Group, Japan Tobacco International, Altadis, Swisher, Mac Baren and Ranch Filters.1 Stuart Alexander has a 50.0% value share of the $23.5 million cigar market in grocery stores.2
Table 10.5.1
Stuart Alexander tobacco products, sold through convenience retailers, 2010
| | |
| --- | --- |
| Roll-your-own tobacco | Old Holborn, Irish Cake, Plumcake, Mac Baren |
| Cigars | Altadis, Bering, Colts, Hav-A-Tampa, Henri Wintermans, Henry Clay, Café Crème, Jewels, King Edward, Old Port, Sweet Aromatic |
| Smoking accessories | Ranch Filters |
Source: The Australian Retail Tobacconist3
10.5.2
Swedish Match Australia Pty Ltd
Swedish Match Australia is the Australian operating division of the Stockholm based, publicly listed company Swedish Match. Swedish Match is engaged in the manufacture and distribution of moist snuff (snus), cigars, pipe and chewing tobacco, matches and lighters. Swedish Match operates production facilities in 11 countries, and is active in more than 100 countries. It is the largest producer of snus in Scandinavia, and is market leader for chewing tobacco products in the US.4
On 30 June 1998, Swedish Match purchased Bryant & May, makers of Redhead matches and firelighters, in Australia. Redheads firelighters continue to be manufactured in Australian, while Redheads Safety Matches are now imported from a Swedish Match factory in Sweden.5 Swedish Match Australia concentrates its tobacco product efforts in the cigar market (Table 10.5.2). Swedish Match has a 36.2% value share of the grocery store cigar market.2
Table 10.5.2
Swedish Match tobacco products sold through convenience retailers 2010
| | |
| --- | --- |
| Cigarettes | Djarum |
| Cigars | Alternativos, Arturo Fuente, Ashton, Aurora, Avo, Cuesta-Ray, Danneman, Davidoff, Delicias, La Paz , Diamond Crown, Don Sebastian, El Credito, Excalibur, La Flor Dominicana, La Paz, La Regenta, La Unica, Leon Jimenes, Macanudo, Puros Indios, Real AL Pedro, Rigoletto, Ritmeester, Villiger, White Owl, Willem II, Sosa, Salsa, Tabacalera, Tatiana, Tueros, Zino |
| Roll-your-own tobacco | Bai |
| Pipe tobacco | Borkum Riff, Erinmore |
| Smoking accessories | Ventti filters, Ventti and Zig Zag Papers, Cricket and Simplicity Lighters |
Source: The Australian Retail Tobacconist3
Additionally, Swedish Match lists the following as part of its portfolio of brands: Redheads, Lighthouse, Cricket, Wee Willem, Ritmeester, White Owl, Villiger, Ventti, La Paz, El Credito, Macanudo, Davidoff and Borkum Riff.6
10.5.3
Other importers of tobacco products into Australia
Several other businesses import cigarettes, cigars and other tobacco products into Australia. These include standard American and European cigarettes, as well as kreteks, flavoured cigarettes from Hong Kong and Chinese brands from the Shanghai Cigarette Factory.3,7 Chinese brands in particular sell more cheaply in Australia than many other brands, so appeal to the value end of the market as well as to expatriate Chinese smokers.7
Richlands Express imports the following cigarette brands: Gala, Easy, Ashford, Manitou and Manitou roll-your-own tobacco and Candlelight cigars. The Patron Group Australia imports the following Chinese cigarette brands: ChungHwa, Double Happiness, Golden Deer, Panda, Peony and GD.8 Pt Korea imports cigarette brands from Korea including Carnival, Esse Blue and Raison Blue. The Trojan Trading Company imports a range of international cigarette brands: Black Devil, DJ Mix Special Feel, Nat Sherman and Sobranie.3
In July 2010, supermarket giant Coles attracted critical media coverage due to the sale of 'home-brand-style packs of 25 cigarettes, imported from Germany, at about $11, almost $4 a pack less than Australian-made Winfield and other leading brands'. The packs carry unfamiliar names such as Bayside, Deal, Harvest and Tradition and are being promoted by Coles as a cheaper alternative to well-known brands.9 See Figure 10.5.1.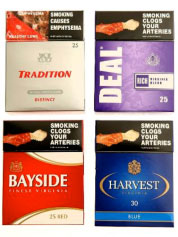 Figure 10.5.1
Heavily discounted imported cigarettes are sold at Coles
Source: R Squires, The Sunday Telegraph9
At least two Australian distributors, Alexanders Cigar Merchants10 and Cigarworld Australia,11 operate their own specialist retail outlets, which sell cigars as well as other tobacco-related paraphernalia and giftware. Alexanders Cigar Merchants also distributes Cigar Aficionado publications.
References
1. Stuart Alexander. Brands. Corporate website. Rosebery, New South Wales: Stuart Alexander Pty Ltd, 2011, [viewed 15 July 2011] . Available from: http://www.stuartalexander.com.au/brands/
2. Annual report, Market sizes & shares Retail World 2010;63(23):50.
3. The NSW Retail Tobacco Traders' Association. Trademarks. Cigarettes, cigars, tobacco. The Australian Retail Tobacconist. Official publication of the NSW Retail Tobacco Traders' Association 2011;81(May-July):18-20.
4. Swedish Match. Our company. Stockholm: Swedish Match, 2011, [viewed 6 July 2011] . Available from: http://www.swedishmatch.com/en/Our-company/
5. Redheads. History and milestones 1998. Clayton, Australia: Readheads, 2011, [viewed 9 July 2011] . Available from: http://www.redheads.com.au/history.php?hp=7
6. Swedish Match Australia. National packaging covenant. Action Plan 2008-2010. Swedish Match Australia Pty Ltd, 2008, [viewed 9 July 2011] . Available from: http://www.packagingcovenant.org.au/documents/File/Swedish_Match_Australia_AP_08_10.pdf
7. Convenience & Impulse Retailing. Brand matters - the importance of brand loyalty in the tobacco category. Australian Convenience Store News. Balmain, New South Wales: Berg Bennett, 2008, [viewed 31 August 2008] . Available from: http://c-store.net.au/magazine/view_article.php?id=169
8. Convenience & Impulse Retailing. Recommended retail prices for tobacco products and accessories. 2010, [viewed 15 July 2011] . Available from: http://www.c-store.com.au/industry/tobacco-pricing.pdf
9. Squires R. Coles importing cheap cigarettes from Germany and selling them at discount prices. The Sunday Telegraph, (Sydney) 2010:18 Jul. Available from: http://www.news.com.au/business/coles-importing-cheap-cigarettes-from-germany-and-selling-them-at-discount-prices/story-e6frfm1i-1225893467835
10. Alexanders Cigar Merchants. Company website. Melbourne: Alexanders Cigar Merchants, undated, [viewed 2 March 2008] . Available from: http://www.alexanderscigars.com.au/
11. Cigarworld Australia. Corporate website. Mermaid Waters, Queensland: Cigarworld Australia, 2005, Last modified June 2007 [viewed 3 March 2008] . Available from: http://www.cigarworld.com.au