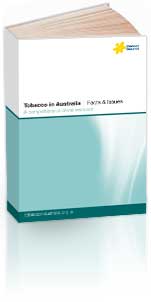 Tobacco in Australia
A comprehensive review of the major issues in smoking and health in Australia, compiled by the Cancer Council Victoria.
Production of editions 2 to 4 of this publication has been funded by the Australian Government Department of Health and Ageing. Ongoing updating is also being funded by the Australian Government Department of Health, with contributions from Cancer Councils in all states and territories.
This work has been produced with the objective of bringing about a reduction in death and disease caused by tobacco use. Much of it has been derived from other published sources and these should be quoted where appropriate. The text may be freely reproduced and figures and graphs (except where reproduced from other sources) may be used, giving appropriate acknowledgement to Cancer Council Victoria.
Editors and authors of this work have tried to ensure that the text is free from errors or inconsistencies. However in a resource of this size it is probable that some irregularities remain. Please notify Cancer Council Victoria if you become aware of matters in the text that require correction.
Suggested citation
Scollo, MM and Winstanley, MH. Tobacco in Australia: Facts and issues. Melbourne: Cancer Council Victoria; 2018. Available from www.TobaccoInAustralia.org.au
OR
<Author(s) of relevant chapter section>, <Name of chapter section> in Scollo, MM and Winstanley, MH [editors]. Tobacco in Australia: Facts and issues. Melbourne: Cancer Council Victoria; <Date last updated>. Available from <url of relevant chapter or section>