13.3
The price of tobacco products in Australia
As in other industries, the costs of raw materials, manufacturing, promotion and distribution of tobacco products are important in determining profits to tobacco growers, manufacturers, wholesalers and retailers. However, because tax is such a substantial component, the level and nature of tobacco duties, fees and taxes–rather than production and marketing factors–have generally been the main determinants of the final retail price of cigarettes over time in Australia as in most developed countries.
This section examines the extent to which increases in tobacco taxes have resulted in rises in the price of cigarettes and other tobacco products in Australia. It outlines efforts by manufacturers to reduce the impact of increases in taxes, both by minimising tax liability and by encouraging discounting at the retail level.
13.3.1 Recommended retail price of tobacco products
Since 1940, the NSW Retail Tobacco Traders' Association has been printing and distributing to small retailers in all states and territories lists of the wholesale and recommended retail prices for cigarettes and roll-your-own tobacco produced by major international tobacco companies, and virtually all cigars and pipe tobacco, sold in Australia.1–3 Copies of the publication preserved at the National Library of Australia and several other libraries throughout the country provide recommended prices for any tobacco product available for sale in any state or territory since that date.
13.3.1.1 Changes over time in the recommended retail price of a standard pack
Recommended retail prices for Craven A Cork Tip 20s—a brand of cigarettes popular in the 1940s, '50s and '60s in Australia, and one of a handful of brands available in 1940 still available in 2016—are listed in Table 13.3.1. When examining the cost of tobacco products over time, it is useful to take into account the effects of inflation–the costs of buying all goods and services. Table 13.3.1 also indicates the price adjusted to take into account changes in the Consumer Price Index (CPI). (The CPI uses 2012 as the base year, the year when the index is set to 100, so it is convenient to express prices in 2012 dollars.) This table also shows the current and 2012 pack price for Winfield 25s, a popular Australian brand.
Figure 13.3.1 plots the price per stick of Craven A 20s and Winfield 25s in $2012 from 1940 to 2016.


Table 13.3.1 shows that the current price of a packet of Craven As increased 85-fold between 1940 and 2010. However, as is evident from Table 13.3.1 and Figure 13.3.1, adjusting for inflation, Craven As cost no more in the early 1990s than they did in real terms during and immediately after the Second World War. Prices then increased substantially from the early 1990s. In real terms the stick price of Craven A in 2016 was almost five times higher than in 1940– reaching $1.20 per stick in 2016. Since 1980, the stick price of both Craven A and Winfield increased more than five-fold.
13.3.1.2 The large pack: a peculiarly Australian phenomenon
In response to rising awareness about health effects and the introduction of and steady increase in state business franchise fees on tobacco, over the 1960s, 1970s and 1980s manufacturers introduced many new brands and variants of existing brands that differed in the amount of tar measured and the number of cigarettes in each pack.
Most cigarettes were unfiltered in the early part of the century but by the end of the 1960s most were sold with filters. Cigarettes in the early part of the century were also commonly sold in packets of 10 or 20 or in tins of 50. These were similar in size to the tins in which loose tobacco was commonly sold. With the advent of plastic wrapping, however, these tins disappeared and by 1960 the vast majority of cigarettes were sold in packets of 20. The increasing rate of state licence fees had a significant impact on the price of brands that were popular until the early 1970s. However the tobacco industry fought back to retain its customers and the introduction of Winfield 25s '5 smokes ahead of the rest' in 1976 marked the advent of the large pack size in Australia.
Until 1999, Australia was virtually the only country in the world that combined an excise based on weight and ad valorem fees based on wholesale value of sales. Until 1999, lighter cigarettes attracted less federal excise and customs duty than heavier cigarettes. This effect was amplified by the manner in which ad valorem fees were imposed and final retail price calculated, providing an incentive for lighter cigarettes and for packaging many cigarettes in the same packet.4 The introduction of large pack sizes in Australia closely followed the introduction in 1975, and subsequent doubling in about 1987, of state franchise fees throughout Australian states. In most other countries in the world, cigarettes are virtually always sold in packets of 20.
While the price per stick of the most popular brand rose quite sharply as a result of a number of increases in duty and state licence fees on tobacco (Figure 13.3.2), the price per stick of the cheapest pack on the market (Winfield 25s in the 1972, Peter Jackson 30s until 1989, Longbeach 40s briefly in the 1990s and then Holiday 50s) increased only in line with the CPI (Figure 13.3.3). Not surprisingly, large packs quickly became a dominant component of the market (see Figure 13.3.5).
While the recommended retail prices of premium brands of cigarettes such as Marlboro, Dunhill, Benson and Hedges and Craven A rose steadily from the early 1980s, consumers concerned about price have always been able to purchase cigarettes that are substantially cheaper per stick.
Figure 13.3.2 plots in more detail the recommended retail price of the leading brand of cigarettes of each year over time, indicating some of the major changes in taxation arrangements between 1940 and 2011, and some of the major innovations with which the industry responded to those changes.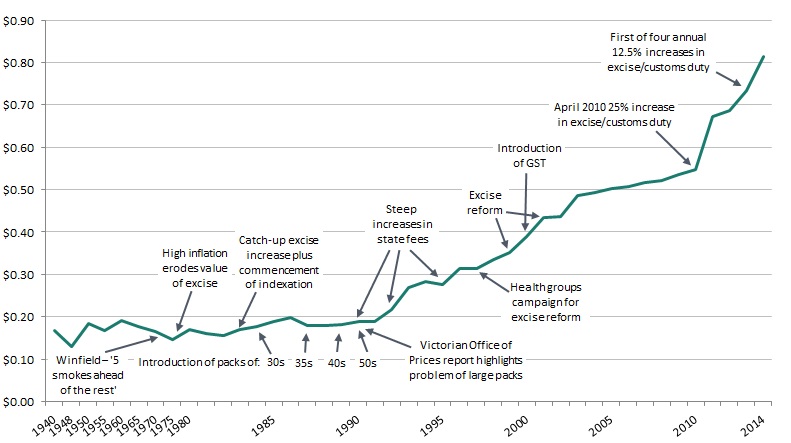 Once again, Figure 13.3.2 shows that the effects of early increases in state licence fees were mitigated by the introduction of larger and larger pack sizes providing cigarettes at a cheaper cost per stick than those available in smaller pack sizes. It was not until the very large increases in state fees and excise duty in the mid-1990s that cigarettes became significantly more expensive.
Recommended retail prices changed little before the 1990s, then increased steadily over the late 1990s so that, in real terms, by 2001 the recommended retail price of cigarettes was almost three times greater than what it had been in 1948. The effects of the 2010 and 2013 increases in excise and customs duty are also clearly evident. The recommended retail price of cigarettes almost doubled between 2001 and 2014.
As outlined in Section 13.2.1, health groups argued for reform of tobacco taxes4, 6–8 and a new system was introduced between 1999 and 2001, after which time the price per stick of cigarettes in large pack sizes became much closer to the price per stick in smaller pack sizes.
Figure 13.3.3 plots price movements since 1973, reflecting the effects of increases in excise duty and state fees throughout the 1990s, the impact of the implementation between November 1999 and February 2001 of the government's new tax system, and impact of the 2010 and 2013 tax increases. Note that in this index, all prices are set to 100 in the base year (2012), so that increases are relative to 2012 prices for the same brand.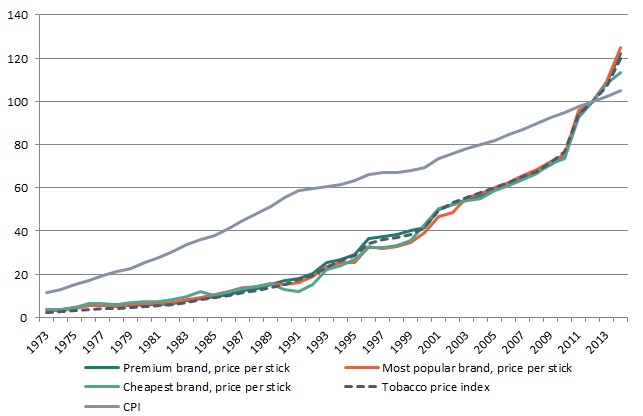 Figure 13.3.3 also shows that between 1990 and 2001 cigarette prices increased well above the inflation rate. The biggest increases occurred in the cheapest and most popular brands corresponding with the change to the per stick system in 1999 and the introduction of the GST in July 2001. Between 1998 and 2001, prices of value brands of cigarettes increased between 30% and 40%.11
While prices of cheapest and premium brands rose in parallel in the early 1990s, from 1999 the cheapest brands increased to a much larger extent than the premium brands, thus demonstrating the effectiveness of the November 1999 tax reforms.
Table 13.3.2 and Figure 13.3.4 show that with the pack price for Horizon and Holiday 50s rising above $30 in February 2013, and even exceeding $40 for Holiday 50s in March 2014 (after which time this pack size was discontinued), it seems that the dominance of large packs in Australia may have ended. In March 2014, it cost more than $18 more to buy a pack of Holiday 50s than a pack of Winfield 25s.
The proportion of cigarette sales that were of larger pack sizes (i.e. 30s and larger) in Australia are provided for years for which this is available—refer Table 13.3.3 and Figure 13.3.5.
Use of packs of 30s and 35s has also declined among secondary school students—see Figure 13.3.6.
Between 1999 and 2002, during the period of reform of the tax system, the percentages of secondary school students using large packs declined by about 18%, which included a 29% reduction in the percentage of teenage smokers preferring 40s, and a 32% reduction in the percentage preferring 50s. Figure 13.3.7 shows that the proportion of secondary students smoking from large packs has declined by more than one-third from 1996 to 2011.
13.3.2 Prices at which tobacco products are sold/purchased
Working out the price of cigarettes and other tobacco products is by no means a straight-forward matter. The prices at which cigarettes are offered for sale may differ significantly from those recommended by manufacturers. Many different brands of cigarettes are sold–more than 50 in Australia in 201420–from many different outlets; there were more than 35 000 outlets in Australia in 2004.21,22 Some types of outlets are more likely to sell at discounted prices, but not all brands are discounted to the same extent within the same periods of time. Obtaining a representative sample of prices for even a single brand over time would be a costly exercise. Obtaining a representative sample of prices for a large number of brands is simply not feasible. Many researchers attempt to address this difficulty by using prices of just the brand of cigarettes most popular in the population they are studying, but this may not give a picture representative of the entire cigarette market due to consumers seeking to minimise costs by shifting to cheaper brands or pack sizes, bulk purchasing, or shopping at lower-cost outlets.
In the 2003 study by Ross and Chaloupka23 discussed in Section 13.1.5, the average cost of cigarettes in a particular state (as calculated by industry sales records) correlated only weakly with the cost (in their local store) of the brand of cigarettes preferred by secondary school students. The study found that consumption fell much more dramatically in response to changes in prices reported by teenagers than to changes in state-average cigarette prices. The choice of indicator for price may critically affect the outcome of research on price effects, and, as demonstrated in Section 13.3.1.2, the pricing policies adopted by companies may undermine the effectiveness of tax policy as a means of discouraging tobacco consumption.
13.3.2.1 The Cigarettes and Tobacco Sub-group of the Consumer Price Index
The longest-running indicator available of the actual price of cigarettes for sale in Australian shops is provided by the component of the Tobacco and Alcohol Sub-Index of the CPI that covers tobacco products. The CPI and its sub-indexes are constructed each quarter by the Australian Bureau of Statistics using in-shop surveys monitoring a 'basket' of goods that might be purchased by a typical Australian household.24 Table 13.3.4 shows the average index figure for the Cigarettes and Tobacco Sub-group of the Tobacco and Alcohol Sub-index of the CPI for each year since it was first published in 1973.
Figure 13.3.8 plots the Cigarettes and Tobacco Sub-group of the CPI against the overall index since 1973.
It is evident from Table 13.3.4 and Figure 13.3.8 that tobacco prices, as determined in the Australian Bureau of Statistics price survey, have risen significantly over time, with notable rises in the mid-1990s, early 2000s, and from 2010 onward. Tobacco prices rose even between 2001 and 2009, during which time the excise and customs duty on tobacco products was increased only in line with the CPI, indicating increased margins to manufacturers and retailers (and also to state governments in GST revenue). The steep Tobacco CPI increase in 2014 corresponds to the 12.5% excise and customs duty increases implemented on 1 December 2013.
13.3.2.2 Discounting in the tobacco market
While many small retailers such as proprietors of local corner stores sell cigarettes at the recommended prices, the majority of cigarettes in Australia are sold at considerably lower prices. As well as selling single packets of cigarettes at well below the recommended prices, most supermarkets and tobacconists also sell cigarettes in multi-pack bundles such as twin packs and cartons at a discounted rate. In its 1994 report on the cigarette industry, the Prices Surveillance Authority noted various common forms of discounting, including lower prices for stock bought in high volumes, and the phenomenon of 'specialling' where manufacturers encourage high-volume retailers (especially tobacconists and supermarkets) to discount one or two of that company's brands for a week or longer periods.25
An in-shop study undertaken through the period May 1997 to February 2001 by the Centre for Behavioural Research in Cancer (CBRC)26 indicated significant discounting of cigarettes over that period. The study surveyed the pack and carton prices of the five most popular brands of cigarettes in each state in a selection of all the major types of stores in a sample of suburbs in each major urban centre throughout Australia. On average, cigarettes in Australia were sold at 5.75% lower per stick than the recommended retail price, with considerable variation between brands and outlet types. Average discounting ranged from 4.4% for Benson and Hedges 25s to 6.8% for Horizon 50s. Petrol stations tended to sell cigarettes at slightly higher than the recommended retail price (about 0.3% higher across the study period) but discounting was common in supermarkets and tobacconists (with an average discount of 9.3% and 10.9% respectively). Per stick prices of cigarettes sold in cartons were about 14% lower than those sold in single packs.
Table 13.3.5 sets out the retail prices of a number of popular brands, comparing the per stick recommended retail price with single pack and multi-buy (twin-pack) prices at May 2014 from observations of tobacco product boards completed in a variety of supermarkets in metropolitan Melbourne, Australia.
13.3.2.3 Prices paid as reported by smokers
An alternative approach to calculating prices of tobacco products is to ask smokers what they paid for their last packet of cigarettes or smoking tobacco. While not suitable for all research purposes, such data do provide very accurate information about price as actually experienced by consumers.
Studies based on interviews with US tobacco users have indicated significant recent increases in the percentages of smokers turning not just to cheaper brands, but also to cheaper forms of tobacco (roll-your-own and chewing tobacco); cartons in preference to packets; discount outlets; and, where this is convenient, duty-free and illicit tobacco products.28 In Australia, following the abolition of state business franchise fees on tobacco, there was a similar shift to roll-your-own including illicit 'chop-chop' (see Section 13.7), and to cartons and to discount outlets.29 Changes to tobacco taxes in Australia in 1999 made it much less attractive for smokers to turn to larger pack sizes and budget brands as a means of cushioning themselves from tax increases, and as intended, following introduction of reforms, smokers shifted back to smaller pack sizes with a lower up-front purchase price.11 An annual survey undertaken to track the effects of the National Tobacco Campaign30 provides data on prices paid by Australian smokers between 1997 and 2000.26 Comparing the results of this survey with the data collected in the 1997–2001 CBRC in-shop price monitoring survey, it is clear that a significant proportion of smokers in Australia must be purchasing cigarettes at discounted prices.
Figure 13.3.9 plots the recommended retail price of Peter Jackson 30s, one of the top-selling brands, against the average reported prices paid by a representative sample of consumers. It also plots the average price of Peter Jackson 30s observed in the price monitoring survey when purchased in packs from convenience stores and when purchased in cartons in discount stores.
As is evident from Figure 13.3.9, the actual price that consumers report they pay is significantly lower than the recommended retail price and the average price of packets of cigarettes sold in convenience stores. It is much closer to the average price of packets sold in cartons from discount outlets.
Technical attachment 13.3.2 sets out data on prices paid for ten different brands of cigarettes collected from Australian smokers interviewed as part the International Tobacco Control Policy Evaluation Study for the years 2002–10.32 Figure 13.3.10 plots the average reported prices paid for these ten brands (weighted by brand share) against their average recommended retail prices (weighted for brand share and not weighted).
Between 2002 and 2010, the prices consumers reported paying continued to be substantially lower than those recommended by retail trade associations.
While it is possible that consumers misremember and round down prices, clearly the recommended retail prices overestimate the actual prices paid by consumers. Indexes such as the CPI based on price monitoring surveys may also significantly overestimate prices experienced by consumers unless sampling is adjusted to take account of changing sales patterns, in particular those reflecting consumer efforts to seek lower prices.
13.3.3 International comparisons of the price of tobacco products
To accurately assess the prices of Australian cigarettes compared with those sold in other countries, it is important to use consistent methods for collecting price data. Estimated prices for a single country will vary widely depending on the brand and brand variant selected and the sorts of retail outlets from which data are collected.
13.3.3.1 International comparisons of average cigarette prices
Average cigarette prices are collected annually as part of the Economist Intelligence Unit's Worldwide Cost of Living survey. Figure 13.3.11 shows the price (expressed in US dollars) of a typical pack of cigarettes sold in a sample of supermarkets, mid-priced stores and speciality retailers for the ten most expensive cities in the world in 2014. Sydney and Melbourne were ranked the fifth and eighth most expensive cities, respectively, although had the most expensive average cigarette prices (followed closely by Oslo). Average cigarette prices in Sydney and Melbourne in 2014 were almost three times higher than compared to 10 years ago.
13.3.3.2 International comparisons of prices paid
The International Tobacco Control Policy Evaluation Study provides ongoing data for the countries involved in the study, on a range of tobacco-control policy indicators, including the type of venue from which smokers purchased cigarettes and what they paid.35 Analysis of data from the first two waves of the study (between October and December 2002, and then May to July 2003) shows that, while Australian smokers were much less likely to purchase from untaxed sources, they were much more likely to purchase from grocery and other discount stores in preference to petrol stations and other convenience stores. The average price per stick paid by smokers in each country in phase two of the study–excluding prices paid for untaxed cigarettes–adjusted to 2002 US dollars–were 35c in the UK, 23c in Canada and the US, and 20c in Australia.
Recent news and research
For recent news items and research on this topic, click here (Last updated October 2016 )
References
NSW Retail Tobacco Traders' Association, Price lists—cigarettes. The Retail Tobacconist of NSW, 1940 and 1948. 9 and 12(February editions).
NSW Retail Tobacco Traders' Association, Price lists—cigarettes. The Retail Tobacconist, 1950 to 1975. 11 to 36(February editions).
NSW Retail Tobacco Traders' Association, Price lists—cigarettes. The Australian Retail Tobacconist, 1980 to 2012. 41 to 84(February editions).
Scollo, M., Closing the Loophole--The Need for Action in 1997. 1996, Anti-Cancer Council of Victoria: Melbourne, Australia. p. p28.
Victorian Office of Prices, Does Smoking Make Cents. 1990, Victorian Smoking and Health Program: Melbourne, Australia.
Australian Council on Smoking and Health, et al., Proposal to increase excise on tobacco. A submission to the Australian Federal Government. 1990, ACOSH: Perth.
Australian Council on Smoking and Health, et al., Tobacco Taxes: a case for action. A submission to the Australian Federal Government. 1992, ACOSH: Perth.
Australian Council on Smoking and Health, et al., Tobacco excise duties. Submission to the Australian Federal Government. 1994, ACOSH: Perth.
Australian Bureau of Statistics, 6401.0 Consumer Price Index, Australia Table 11, CPI: Group, Sub-group and Expenditure Class, Index Numbers by Capital City. 2014, ABS: Canberra.

Available from:

http://www.abs.gov.au/AUSSTATS/abs@.nsf/DetailsPage/6401.0Dec%202014?OpenDocument
NSW Retail Tobacco Traders' Association, Price lists—cigarettes. The Australian Retail Tobacconist, 1973 to 2014. 34 to 90(February editions).
Scollo, M., et al., Impact of tobacco tax reforms on tobacco prices and tobacco use in Australia. Tobacco Control, 2003. 12(suppl. 2): p. ii59–66.

Available from:

http://tc.bmjjournals.com/cgi/content/abstract/12/suppl_2/ii59
NSW Retail Tobacco Traders' Association, Price lists—cigarettes. The Australian Retail Tobacconist, 1990 to 2014. 51 to 90(February editions).
NSW Retail Tobacco Traders' Association, Price lists—cigarettes. The Australian Retail Tobacconist, 1970 to 2014. 31 to 90(February editions).
NSW Retail Tobacco Traders' Association, Price lists—cigarettes. The Australian Retail Tobacconist, 1980s to 1990s. 41 to 59(February editions).
Hill, D., V. White, and Y. Effendi, Changes in the use of tobacco among Australian secondary students: results of the 1999 prevalence study and comparisons with earlier years. Australian and New Zealand Journal of Public Health, 2002. 26(2): p. 156–63.

Available from:

http://www.phaa.net.au/anzjph/journalpdf_2002/april_2002/p.%20156-63.pdf
White, V. and J. Hayman, Smoking behaviours of Australian secondary school students in 2002, in National Drug Strategy monograph series no. 54. 2004, Australian Government Department of Health and Ageing: Canberra.

Available from:

http://www.nationaldrugstrategy.gov.au/internet/drugstrategy/publishing.nsf/content/mono54
White, V. and J. Hayman, Australian secondary school students' use of alcohol in 2005. Report prepared for Drug Strategy Branch, Australian Government Department of Health and Ageing, in National Drug Strategy monograph series no. 58. 2006, Centre for Behavioural Research in Cancer, Cancer Control Research Institute, The Cancer Council Victoria: Melbourne.

Available from:

http://www.nationaldrugstrategy.gov.au/internet/drugstrategy/publishing.nsf/Content/mono58
White, V. and G. Smith, 3. Tobacco use among Australian secondary students, in Australian secondary school students' use of tobacco, alcohol, and over-the-counter and illicit substances in 2008. 2009, Drug Strategy Branch Australian Government Department of Health and Ageing: Canberra. Available from: http://www.nationaldrugstrategy.gov.au/internet/drugstrategy/Publishing.nsf/content/school11
White, V. and E. Bariola, 3. Tobacco use among Australian secondary students in 2011, in Australian secondary school students' use of tobacco, alcohol, and over-the-counter and illicit substances in 2011 2012, Drug Strategy Branch Australian Government Department of Health and Ageing: Canberra. Available from: http://www.nationaldrugstrategy.gov.au/internet/drugstrategy/Publishing.nsf/content/school11
NSW Retail Tobacco Traders' Association, Price lists—cigarettes. The Australian Retail Tobacconist, 2014. 90(January–February—March edition).
PricewaterhouseCoopers, Sales of cigarettes and tobacco products by type of retail business. An analysis of sales of cigarettes and tobacco products to tobacco retailers in Australia. Document tabled as part of a formal submission (no. 46) made by British American Tobacco Australia in relation to the Inquiry into Tobacco Smoking in New South Wales in 2006. 2005, PricewaterhouseCoopers: Sydney.

Available from:

http://www.parliament.nsw.gov.au/prod/parlment/committee.nsf/0/2b14b998dda58536ca2571620017ecd2/$FILE/Sub%2046%20BATA%20-%20Attachment%202.pdf
Economic Studies and Strategies Unit, The significance of cigarettes and tobacco products to retailers. 1999, PricewaterhouseCoopers: Sydney.

Available from:

http://www.parliament.nsw.gov.au/prod/PARLMENT/Committee.nsf/0/2b14b998dda58536ca2571620017ecd2/$FILE/Sub%2046%20BATA%20-%20Attachment%202.pdf
Ross, H. and F. Chaloupka, The effect of cigarette prices on youth smoking. Health Economics, 2003. 12(3): p. 217–30.

Available from:

http://econpapers.repec.org/article/wlyhlthec/v_3A12_3Ay_3A2003_3Ai_3A3_3Ap_3A217-230.htm
Australian Bureau of Statistics. 6461.0 Australian Consumer Price Index: Concepts, Sources and Methods, 14th Series. Canberra: ABS, 2005. Available from: http://www.ausstats.abs.gov.au/ausstats/free.nsf/0/78A8F9FCA2B2BA62CA256D580005314D/$File/64610_2003.pdf
Prices Surveillance Authority, Report no. 52: inquiry into cigarettes declaration. Matter no: PI/94/1. 1994, PSA: Melbourne, Australia.
Scollo, M., T. Owen, and J. Boulter, Price discounting of cigarettes during the National Tobacco Campaign, in Australia's National Tobacco Campaign: evaluation report vol. 2, K. Hassard, Editor. 2000, Commonwealth Department of Health and Aged Care: Canberra. p. 155-200. Available from: http://www.health.gov.au/internet/main/publishing.nsf/Content/7E318B2BCB5DAE26CA256F190004524F/$File/tobccamp_2-ch5.pdf
NSW Retail Tobacco Traders' Association, Price lists—cigarettes. The Australian Retail Tobacconist, 2014. 91(April–May—June edition).
Hyland, A., et al., Access to low-taxed cigarettes deters smoking cessation attempts. American Journal of Public Health, 2005. 95(6): p. 994–5.

Available from:

http://www.health.gov.au/internet/main/publishing.nsf/Content/7E318B2BCB5DAE26CA256F190004524F/$File/tobccamp_2-ch5.pdf
Blecher, E., A mountain or a molehill: is the illicit trade in cigarettes undermining tobacco control policy in South Africa? Trends in Organized Crime 2010. 13(4): p. 299–315.

Available from:

http://www.springerlink.com/content/q852738qk5761088/
Hill, D. and J. Alcock, Background to campaign, in Australia's National Tobacco Campaign: evaluation report vol. 1, K. Hassard, Editor. 1999, Commonwealth Department of Health and Aged Care: Canberra.
NSW Retail Tobacco Traders' Association, Price lists—cigarettes. The Australian Retail Tobacconist, 1997 to 2000. 57 to 60(February editions).
Li, Q., Prices of Australian cigarettes from Waves 2 to 4 of the International Tobacco Control Policy Evaluation Study, Michelle Scollo of The Cancer Council Victoria, Editor. 2006, Roswell Park Cancer Institute: Buffalo, NY.
NSW Retail Tobacco Traders' Association, Price lists—cigarettes. The Australian Retail Tobacconist, 2002 to 2010. 62 to 75(February editions).
Economic Intelligence Unit, Worldwide Cost of Living 2014, T.C.C. Victoria, Editor. 2014, The Economist: London.

Available from:

http://www.eiu.com/
Hyland, A., et al., Cigarette purchase patterns in four countries and the relationship with cessation: findings from the International Tobacco Control (ITC) Four Country Survey. Tobacco Control, 2006. 15(suppl. 3): p. iii59–64.

Available from:

http://tc.bmjjournals.com/cgi/content/abstract/15/suppl_3/iii59
Technical appendix 13.3.1
Recommended retail price per stick of leading brands in Australia compared with reported prices paid–Australia 2002 to 2014