14.4
Examining the effectiveness of public education campaigns
Advertising in the mass media allows public health campaigners to repeatedly expose the population to messages about the negative effects of tobacco use and the benefits of quitting. This exposure occurs incidentally (during routine media use) rather than being explicitly sought,1 so it provides a way of reaching individuals who are already thinking about quitting as well as those who are not yet at this point. Exposure to messages in the mass media can directly influence individual decision-making about quitting as smokers view or hear campaign messages, gain new insights and reflect on the implications for their own lives. It can also operate indirectly by influencing interpersonal discussion about tobacco use within family and friendship networks or by influencing social norms. Changes in broader social norms in turn can increase the likelihood of adoption of tobacco-control policies (such as smokefree policies or increases in taxes on tobacco) and these policies might also prompt further quit attempts.2
If they are to be effective, mass media campaigns must be noticed (using appropriate media channels and placement to reach the target group), perceived as persuasive (experienced by the target group as engaging, relevant and/or emotionally affecting) and remembered (seen often enough for them to be recalled and acted upon). Campaigns can generally expect small effect sizes, but, because they reach mass numbers of individuals within populations, the degree of change is of high practical significance.3
Several notable reviews examining the effect of mass media campaigns on smoking behaviour,4–6,2 on youth smoking7,8 and across health behaviours8,9 have helped to consolidate knowledge from research and practice. All these comprehensive reviews reach a similar conclusion—that mass media campaigns can positively change smoking behaviour in adults and youth. Where they differ is in the strength of their conclusions. The most comprehensive review on the effects of media campaigns on smoking behaviour was a major monograph published by the US National Cancer Institute in 2008.4 This 650-page document reviewed scientific studies conducted in numerous countries across several decades.10 This included scientific literature relevant to the role of advertising in forming opinions about and attitudes to smoking.11 The monograph systematically assessed several different sources of evidence about the effects of advertising by tobacco companies and by health campaigns12 as well as the portrayal of smoking in the media and popular culture.13 On the basis of its broad-ranging expert analysis of direct and indirect evidence from within health, communication and broader psychological fields, it found that there was sufficient evidence to conclude that anti-smoking campaigns can reduce population smoking and that both mass media advertising of tobacco products and portrayal of smoking in the media also can exert causal effects on population smoking among both youth and adults.14 The most recent review2 provides the strongest evidence of effectiveness of anti-smoking campaigns in reducing smoking; confidence grows as study design improves and data accumulate from multiple campaigns in different places over many years. The content of this chapter draws largely on the content and conclusions of this most recent review.
14.4.1
Population-level effectiveness
With its long history of running mass media-led campaigns to discourage smoking, Australia has made a major contribution to the evidence base about population-level effectiveness. Beginning with the 'Quit. For Life' Sydney–Melbourne pre–post (before-and-after) trial in the early 1980s,15,16 then the National Tobacco Campaign in the late 1990s,17–19 and with successful exports of campaigns such as 'Bubblewrap' and 'Sponge',20 Australia has developed an international reputation for excellence in developing and evaluating anti-smoking television advertising. In more recent years Australian researchers have focused on campaign elements that optimise effectiveness, such as themes and content,17,21–23 media type,24 media placement25,26 and the intensity and duration of campaigns.27–29
14.4.1.1
Population-level effectiveness: adults
Due to the difficulties in conducting such research, there have been few large-scale evaluations of adult-focused anti-tobacco campaigns. In early evaluation studies of Australia's National Tobacco Campaign, smokers reported that the campaign had helped them move towards quitting and ex-smokers reported it had helped them remain quit.30 Importantly, evaluation studies were able to demonstrate that the first phase of the National Tobacco Campaign achieved a reduction of 190,000 smokers.31,32 More recently, studies from the American Legacy Foundation's 'EX' campaign showed a significant increase in quit attempts and a trend towards higher quit rates among smokers with confirmed campaign recall.33,34
A systematic review by the Cochrane Collaboration in 2008 examined 11 mass media campaigns to assess associated adult smoking behaviour changes.5 Weighted towards studies using conventional control group designs, this review concluded that comprehensive tobacco-control programs that included mass media campaigns could positively change smoking behaviour in adults, but noted that studies were variable in their methodological design and quality. The authors further concluded that intensity and duration of mass media campaigns might influence effectiveness.
Also in 2008, the National Cancer Institute4 found that, of 11 population-based government-funded mass media campaigns conducted as part of state or national tobacco-control programs and evaluated to that time, all demonstrated positive effects on smoking prevalence and/or per capita tobacco consumption.
In recent years studies relating commercial TV ratings data with individual-level data have consistently demonstrated that an individual's potential exposure to televised anti-smoking campaigns is related to numerous desirable outcomes. In a prospective population study in Massachusetts, greater population exposure to aggregated televised media campaigns among adult smokers was associated with a higher likelihood of quitting at a two-year follow-up.21 Higher levels of exposure have also been associated with increased calls to quitlines,35–39,22,23 increased quitting behaviours among adults21,27 and decreased adult smoking prevalence.28
A time series analysis of monthly smoking prevalence in Australia over 11 years found that greater population exposure to televised media campaign advertising was associated with a faster decline in adult smoking prevalence, after adjusting for variation in tobacco prices, smokefree restaurant laws, tobacco marketing restrictions and availability of smoking cessation products.28
A recent cohort study using Australian data from the International Tobacco Control Project, demonstrated that the likelihood of making a quit attempt at follow-up was associated with increased exposure to anti-tobacco advertising in the three months before follow-up, but not to advertising in more distant months.29
The research shows that campaigns need to be of sufficient intensity and duration to have an effect and have relatively short-term carry-forward effects on quit attempts and that repeated cycles of broadcasting achieve sustainable population changes in smoking behaviour. Durkin and colleagues' review for Tobacco Control2 concluded that mass media campaigns to promote quitting are important investments as part of comprehensive tobacco-control programs to reduce adult smoking prevalence. Jurisdictions should aim for high reach and consistent exposure over time and favour messages that contain effective 'negative health effects' messages.
Summary
Adult-focused mass media campaigns focusing on the negative health consequences of smoking broadcast with sufficient duration and intensity can reduce adult smoking prevalence.
14.4.1.2
Population-level effectiveness: youth
Whether tobacco-control campaigns should primarily focus on youth (because most people start smoking before age 18) or on adults (who make up the vast majority of current smokers) has been extensively debated.40,41 The findings to date suggest there is no need to choose between the two options, since an effective adult-targeted campaign appears to be as effective in communicating with youth as with adults.14 This may be because they change broader social norms about smoking, including the perception that smoking is common and accepted.8,40
Reviews of early field trials provided some support for media interventions combined with school programs, but more recent population-based research on adult- and youth-focused mass media campaigns provides convincing evidence that these campaigns can reduce youth smoking.42–45 The National Cancer Institute review concludes that: 'in isolation, each study might be considered imperfect, yet when considered together, there is a high degree of consistency in findings, which provide good support for the notion that anti-smoking advertising can influence youth smoking'.14
Recent studies46–48 provide further support for mass media campaigns in maintaining reductions in youth smoking. Several studies have demonstrated a rapid decay of campaign effects when anti-smoking advertising is suspended;49 when funding was reduced for the youth-focused Florida 'truth' campaign in 1999, immediate reductions in anti-smoking beliefs were observed and smoking intentions began to increase. The launch of the national 'truth' campaign six months later may have mitigated some of these effects on anti-industry beliefs, but not on smoking intentions.50 Studies examining the exposure of youth to advertising have shown that higher levels of exposure are associated with better smoking-related attitudes, beliefs and behaviours among youth.46,51–53
Summary
Adult and youth focused campaigns can influence youth smoking.
14.4.2
Campaign content and theme
Anti-smoking mass media campaigns are increasingly characterised by their message content and style.4 Recent work has tended to first categorise messages by purpose in order to identify the most effective message strategy.54,55 Several categories provide useful differentiation—'why to quit' (messages that encourage cessation by advising smokers why they should quit smoking), 'how to quit' (messages that promote cessation by educating smokers how to quit), 'keep trying to quit', 'secondhand smoke health effects' (which can include some elements of 'why to quit') and advertising that reveals 'tobacco industry manipulation'.
14.4.2.1
Campaign content and theme: adults
In recent years, strong evidence has emerged suggesting that advertisements that arouse strong negative emotions perform better than those that do not.4,21,56–58 These advertisements tend to depict serious harm done by smoking or secondhand smoke in an authentic way and sometimes include depictions of tobacco industry awareness of the harm of smoking. Experimental research on information processing supports the hypothesis that advertisements that evoke high arousal will receive greater viewer attention and will be remembered more readily than those that do not.59 Further, negative content tends to produce higher levels of arousal than does positive content.
The National Cancer Institute review demonstrated that messages that elicited negative emotions by describing the serious health consequences of smoking scored higher on ratings on perceived effectiveness57 and memorability60 and were more likely to be recalled by recent quitters who believed that anti-smoking advertisements had contributed to their quit attempt.61 Durkin and colleagues found that exposure to messages with high levels of emotion and/or a personal testimonial (typically negative health effects advertisements) significantly increased the likelihood of being quit at two-year follow-up, whereas messages that were low in emotion and did not feature a personal testimonial were not related to the likelihood of quitting.21
The effect on Quitline call volume generated by different message types also provides useful insights into the potential effectiveness of different styles of advertising. Mosbaek and colleagues found that 'why to quit' family testimonial advertisements were the most cost-effective advertisements for generating Quitline calls.38 A study of calls to the Victorian Quitline over a two-year period found that exposure to higher emotion 'why to quit' testimonial messages were the strongest driver of Quitline calls.22 Farrelly and colleagues found that exposure to advertising with graphic imagery was associated with the greatest increases in calls to the New York Quitline.23
Dunlop and colleagues reported that advertisements evoking moderate or high levels of emotion were more likely to stimulate interpersonal pressure from family and friends on smokers to quit, and that this pressure was associated with increased likelihood of recent quit attempts. Interpersonal pressure generated by highly and moderately emotional advertisements was positively associated with salient quitting thoughts.62 In a later review,2 the authors conclude that the negative health effects advertisements with graphic imagery and/or testimonial stories to elicit negative emotions tend to perform better than ads without these features.
Summary
Negative health effects advertisements with high levels of emotion and personal testimony have the greatest potential impact on adult smokers.
14.4.2.2
Campaign content and theme: youth
Research and reviews of youth campaigns have begun to focus on which message characteristics work best, the ideal level of exposure and which types of youth are most and least affected by mass media anti-smoking campaigns.
Biener and colleagues56 noted particular advertisements were effective with adults and youth. Advertisements that young people perceived as most effective were those that evoked a strong negative emotion such as fear or sadness and conveyed a thought-provoking and believable message about the serious long-term consequences of smoking. These were perceived as more effective than advertisements that were designed as humorous or entertaining, or normative advertisements that had low emotional content or generated low cognitive engagement. These perceptions were consistent between teenage boys and girls.
Population-based research also indicates that recall of campaign messages has been associated with reduced smoking behaviour in youth42,43 and a recent study by Biener and colleagues58 of adolescents aged 12–17 years found that the level of the advertisements emotional intensity was a significant predictor of advertising recall.
While the 'tobacco industry manipulation' approach has not been extensively employed in Australia there is evidence of its effective use in the US. Evaluation of the American Legacy Foundation's national 'truth' campaign, a strong 'tobacco industry manipulation' campaign, found significantly changed attitudes towards smoking among young people in a relatively short period.63 The national campaign delivered stark facts about the tobacco industry and its marketing practices, and built on positive results achieved by the campaign in Florida.64
The context or circumstances in which youth are exposed to messages also seems to be important in that discussions about such advertising can enhance the impact of anti-smoking messages on quitting intentions and quit attempts in adolescents.26,65 Dunlop66 found that for smokers, talking about the 'truth' campaign was associated with beliefs, attitudes, and intentions in greater agreement with campaign messages, but only if associated with positive campaign evaluation. For smokers who evaluate a campaign negatively, talking about that campaign was associated with beliefs and attitudes counter to the campaign messages.
Summary
Advertisements that evoke high levels of emotion and discussion by describing the serious long-term consequences of smoking or by highlighting tobacco industry deception have been found to be most effective for youth.
14.4.3
Campaign exposure
Advertising research reveals that the effects of advertising linger over the days and weeks after broadcast ends, but are unlikely to linger over weeks to months.67,50 Although people may recall anti-tobacco advertisements long after they are discontinued, especially memorable ads, behavioural effects decay relatively quickly.50,51,68 This means that campaign advertising only exerts effects on smoking behaviour during periods of advertising activity, and effects rapidly diminish once advertising is withdrawn. This is why advertising is sometimes referred to as acting 'like a spring, rather than a screw'69 in pushing down smoking prevalence. That is, advertising will not have a once-and-for-good effect in reducing smoking prevalence, but creates a prompt (and a reminder for those battling not to relapse) as to why people need to avoid smoking, and where help can be accessed.
14.4.3.1
Campaign exposure: adults
Identifying the level and duration of media placement required to achieve optimum population response is critical for campaign planners and funding agencies, informing decisions about the campaign placement strategy and the investment that will most efficiently result in behavioural changes.
Studies that relate exposure to commercial TV with data on smoking prevalence28 or other smoking-related outcomes21,27,51–53 have consistently demonstrated that an individual's potential exposure to televised anti-smoking campaigns is related to a range of positive outcomes. In these studies estimates of audience exposure to advertising are usually measured by gross ratings points (GRPs) or target audience ratings points (TARPs).
Attempts to quantify the optimal level and duration of campaign exposure to achieve a significant impact on behaviour are challenging and a consensus across studies internationally has not yet been reached.21,27
The optimal timing of exposure to anti-smoking media campaigns also requires more research to answer important questions, such as, does the effect of increased advertising occur within a few weeks, or does it require a more sustained exposure? An Australian study using monthly tobacco control GRPs and a time-series analysis provides some guidance.28 This study demonstrated that an increase in the level of tobacco control GRPs is associated with an accelerated rate of decline in smoking prevalence two months later. It was estimated that, to achieve a temporary 0.3 percentage-point decline in smoking prevalence, a 390-monthly GRP increase two months earlier would be required (equating to approximately one ad exposure per person in the population per week). Further, a cohort study29 and a serial cross-sectional analysis of the aggregate effects of tobacco-control campaign exposure70 concluded that advertising is associated with short-term increases in the likelihood of smokers making a quit attempt. Consistent with Wakefield and colleagues' time-series analyses, which found an increase in advertising exposure was associated with an accelerated decline in smoking prevalence two months later,28 Dunlop and colleagues' analysis concluded that the association between increased advertising exposure and quit attempts was detectable only after an average of nine weeks of cumulative exposure. Their findings suggest that exposures of more than 100 TARPs per week (equating to approximately one or two exposures per week) produce the greatest effects on quitting thoughts and quit attempts.
Summary
14.4.3.2
Campaign exposure: youth
Several studies of youth campaigns in the US provide more insights into the effectiveness of different levels and duration of media exposure on youth. In their national study of the effects of state-sponsored campaigns across the US, Emery and colleagues found that after controlling for a range of other potential influences, media campaigns were associated with stronger anti-smoking attitudes and beliefs among youth and reduced youth smoking.51 Their analysis suggested that it was important in terms of maintaining anti-smoking attitudes and beliefs and reduced smoking that youth were exposed to an anti-tobacco advertisement at a minimal mean exposure rate of at least one advertisement every four months.
Farrelly and colleagues also found a dose–response relationship between exposure to the 'Truth' campaign and youth smoking in the last 30 days.52 However, this effect diminished at very high levels of exposure. Positive effects of the campaign were increasingly found with increasing GRPs up to 10,000 GRPs over a two-year period (an average of four exposures per month per individual), but at higher levels the effect began to attenuate, although still remaining in a positive direction.
Removing anti-smoking advertising can cause smoking behaviour to regress. A study examining the impact of de-funding the Minnesota youth tobacco-use prevention program68 found that a range of measures of susceptibility to smoking among youth—including openness to smoking, and beliefs, attitudes and intentions to smoke—consistently increased following the de-funding of the campaign.
Summary
Similar to adults, the impact of media on smoking behaviour among youth appears to be dose-related and removing advertising can result in regression in smoking behaviour.
14.4.4
Targeting and demographic sub-groups
Studies examining the effectiveness of targeted campaigns for age, education, ethnicity and gender5 and low socio-economic status (SES) populations71 have found mixed or inconsistent relationships between campaigns and effectiveness. However, differences in effectiveness of media campaigns between SES groups may be the result of low levels of exposure and promotion.71
Australia's National Tobacco Campaign is an example of a general audience campaign and its effect on demographic sub-groups. The media buy for the National Tobacco Campaign was designed to maximise exposure of campaign advertising, with a lower socio-economic bias, reflecting a similar bias in the prevalence of smoking in the Australian population.72 An examination of the demographic trends in smoking over the course of the National Tobacco Campaign was undertaken to assess whether the campaign was achieving a similar impact across socio-demographic groups.73,74 The study examined data from the baseline and annual National Tobacco Campaign evaluation surveys from May 1997 to November 2000. It looked at three age groups—18–34 years, 35–60 years and over 60 years—and three occupation groups: professional, white collar and blue collar. Calculating odds ratios between age groups and occupational categories revealed that within the downward trend observed in smoking prevalence over the period of the National Tobacco Campaign, the socio-demographic differences observed between age and occupational categories at baseline remained stable. This indicated that the National Tobacco Campaign appeared to achieve an equal impact across socio-demographic groups, thereby achieving greater relative decline in the groups with highest prevalence at baseline, younger smokers and those in the blue collar occupation category.
The effectiveness of different types of media messages on demographic sub-groups has also been analysed.21,54,55,75 Durkin and colleagues21 found that exposure to high emotion and/or personal testimonial-style ads was associated with quitting and increased quitline calls for low- and mid-level SES smokers, but not high-level SES smokers. Niederdeppe and colleagues55 found that differences in perceived effectiveness between 'why to quit' and 'how to quit' ads were more pronounced among lower educated smokers compared to higher educated smokers. Given that 'why to quit' ads were more effective than 'how to quit' ads across all educational levels, the authors concluded that these types of ads may work best for all smokers, while at the same time contributing to a reduction in the SES disparities in smoking.
In another examination of SES effects, Niederdeppe and colleagues55 found that differences in perceived effectiveness between graphic and testimonial-style 'why to quit' ads and 'how to quit' ads were more pronounced among lower educated smokers compared to higher educated smokers. They found that baseline recall of 'keep trying to quit' ads was associated with a lower quit attempts among those with high school or less education, but with a greater probability of making a quit attempt among higher educated smokers. In contrast, they found no association between baseline recall of 'secondhand smoke health effects' messages on quit attempts or behaviour at 12-month follow-up.76
The National Cancer Institute review4 concluded that advertisements that perform well do so among many population groups. In their updated review, Durkin and colleagues2 acknowledge that though targeting anti-smoking ads to specific audience groups may increase message relevance and persuasion, the increased costs of this strategy may result in a lower proportion of their funds being available for broadcast, resulting in lower rates of overall campaign effectiveness.
Summary
Negative health consequences ('why to quit') advertisements may work best for all smokers, and may contribute to reductions in SES disparities in smoking.
14.4.5
Reaching Australians from culturally and linguistically diverse backgrounds
Examples of mass media campaigns for demographic sub-groups include a mass media campaign aimed at Māori smokers and recent quitters in New Zealand, which found that 54% reported the campaign made them more likely to quit, but there was no movement in 'stage of change' before versus after the campaign.77 A study in Sydney reported beneficial effects of a localised mass media campaign for Arabic-speaking smokers on reducing Arabic smoking prevalence, compared with state and Sydney area non-Arabic smoking prevalence.78
14.4.6
Reaching Indigenous smokers
Very few studies have evaluated the impact of media campaigns on Australian Indigenous communities. A qualitative research study conducted with Indigenous communities in Victoria in the early years of the National Tobacco Campaign found high levels of awareness of the campaign television advertisements and message take-out, similar to the broader population evaluation studies.79 The health issues conveyed were generally understood, with young people in particular frequently describing the health effects of smoking in the language and imagery of these advertisements. However, smoking was not perceived as a major health concern and quitting intention was observed to be lower than in the general population.
Johnston and Thomas,80 in their qualitative review of tobacco-control activities in three remote communities in the Northern Territory, reported generally good recall of mainstream anti-tobacco mass media messages. Boyle and colleagues,81 in their evaluation of the 'Bubblewrap' campaign among Aboriginal smokers in Western Australia, suggested that mainstream mass media campaigns could positively influence the thoughts and behaviours of Aboriginal smokers. However, they also suggested that advertisers look for better ways to integrate Aboriginal themes in mainstream messages and ensure campaigns reach the large Aboriginal populations in regional and remote Australia. Stewart and colleagues82 recently used a quantitative ad rating study to compare responses to different styles of anti-smoking advertisement from Indigenous and non-Indigenous participants. They found that Indigenous people rated mainstream advertisements higher than non-Indigenous people and were more likely to report that they provided new information. Advertisements with strong graphic imagery depicting the health effects of smoking and those with emotive first person narratives were rated highly by Indigenous smokers, indicating that these styles of campaigns are likely to be highly motivating for Indigenous smokers.
14.4.7
Media channels (including new media)
Understanding communication channels and their audiences makes it possible to develop messages most likely to resonate with target audiences and reach them more frequently.83 Knowledge of communication channels is especially important, given the substantial costs required to mount effective mass media campaigns.
14.4.7.1
Television
There is limited Australian analysis of the media channels smokers use and their media consumption habits. One US study examines the communication channels through which cigarette smokers regularly receive information, and whether they differ from those used by non-smokers.83
Data collected by Roy Morgan Research are routinely used by media strategists on behalf of campaign planners to inform advertising placement. Despite the introduction of new media and the proliferation of media channels (subscription and digital), free-to-air television is still considered the most cost-effective means of reaching large numbers of Australian smokers. For example, according to the Roy Morgan single source data, Australian smokers are 19% more likely than the average person aged 18+ to watch more than three hours of TV per day and 60% of all smokers nationally are either 'medium' (2–3 hours/day) or 'heavy' (3+ hours/day) TV viewers. Australian smokers with lower SES profiles are more likely to be heavy consumers of TV. Smokers in the bottom two SES quintiles are 46% more likely than the average to be categorised as heavy TV viewers (3+ hours/day). Forty-five per cent of all lower SES smokers watch more than three hours per day, which gives TV a natural advantage over other media in its ability to reach smokers cost efficiently.84
Potentially one of the greatest challenges for tobacco-control campaigns is the changing media environment and changing media habits of smokers, particularly younger smokers. As the amount of free-to-air television watched by young people declines and is displaced by digital and subscription television channels and online activities, the cost of reaching these audiences with the desired frequency is increasing.
14.4.7.2
Radio and cinema
Much of the research in this chapter has focused on television. This is not surprising: television can more easily generate emotion through the skilful fusion of sound and vision, and the medium can reach a broad range of a target population in a short period of time. Television advertisements are commonly used in cinema and the Internet is now providing further opportunities for exposure to these advertisements. However, the potential impact of other media channels should not be downplayed. One study comparing the responses to radio and television anti-smoking advertisements24 showed emotionally evocative radio advertising could be an effective adjunct or alternative to television advertising in areas where there are substantial limits on funds available for broadcast or where the reach of radio outstrips other media.
14.4.7.3
Social media
The participatory web, which encompasses social networking and user generated content (UGC), continues to foster intense online participation. During June 2010, 8.7 million Australians visited mainstream social networking/UGC sites including Facebook and YouTube from home, spending 41.5 million hours on these sites. Facebook continues to dominate the social networking/UGC network in Australia, accounting for 81% of time spent on these sites and 82% of web pages viewed.85
Social media can potentially play a powerful adjunct role in mass media campaigns, crossing the divide from broadcast media (offering passive delivery of campaigns) to interpersonal communication (offering personalised, responsive two-way messaging). With more than 10 million Facebook users in Australia and almost 50% penetration, this social media network is almost ubiquitous in popular culture and represents an opportunity (for engagement) and challenge to develop approaches to both message delivery and evaluation. In one of the few published papers to evaluate this approach, van den Putte86 described how an anti-tobacco mass media campaign generated conversations among personal and online social networks and demonstrated that those conversations generated quit attempts in people not exposed to the media campaigns. Figure 14.4.1 shows some of the potential areas for engaging with social media.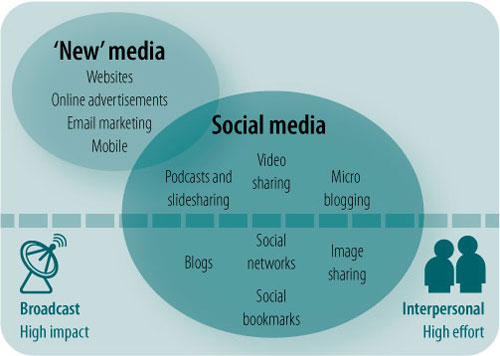 Figure 14.4.1
Model of media in the digital age
Source: Hamil S 2011. Innovation and Social Media. Presentation at World Lung Foundation Global Communications meeting, Bangkok, Thailand. March 2011
Summary
Regardless of whether they are new or old, choices of which media to use in communicating with smokers must balance cost, accessibility, effort, timeliness and most importantly ability to deliver access to the target group (reach) measurable against campaign objectives.
14.4.8
Cigarette smoking in movies
In considering the potential competitive communication environment within which tobacco-control interventions are operating, one area that has received increasing attention over the last decade is the depiction of smoking in movies. In its review of the role of entertainment media in promoting or discouraging tobacco use, the National Cancer Institute concluded that there was a causal relationship between exposure to movie smoking depictions and youth smoking initiation but that research has not yet determined the role that such depictions of smoking may play in maintaining experimental smoking or in prompting relapse among smokers who have quit.13 See Chapter 5. Uptake, Section 5.16 for further discussion.
A number of responses to the problem of smoking in movies have been suggested, including banning product placement, applying restrictive adults-only classifications, industry self-regulation and the screening of anti-smoking messages prior to films that depict smoking.87 A New South Wales study examined whether placing a cinema advertisement about smoking depiction in films before the film screening could influence young women's perceptions of smoking in movies and their intentions to smoke. Results suggest that this type of approach can help to, in the authors' terms, 'immunise' against the influences of film stars smoking.88 This is an example of identifying media opportunities to pre-empt positive depictions of smoking that circumvent advertising restrictions.
14.4.9
Pharmaceutical advertising
Advertising for quitting adjuncts such as nicotine replacement therapy (NRT) and other pharmaceutical aids now has a significant presence in Australia.
In considering the relative contribution of smoking cessation aids and anti-tobacco advertising campaigns, Biener and colleagues undertook a study in Massachusetts with nearly 800 ex-smokers who had quit within the previous two years and investigated what these ex-smokers thought offered the greatest help for them to quit.61 They were more likely to cite anti-tobacco television advertisements than conventional cessation aids. Few individuals mentioned NRT advertisements as having influenced their quitting; the authors question whether those advertisements might be able to achieve the goal of informing people about the availability of their product as well as increasing motivation to quit.
Wakefield and colleagues28 found that higher monthly sales of NRT and bupropion did not have a detectable impact on monthly smoking prevalence even though NRT sales increased in response to NRT advertising. They postulate that because NRT and bupropion are designed and used by heavier smokers, the population reach is limited; it may only help those who are already motivated to try to quit as opposed to motivating more smokers overall to try to quit, which can be increased by tax increases and mass media campaigns.
An important area for future research about how this pharmaceutical advertising may interact with anti-tobacco advertising is the impact on smokers' self-efficacy regarding quitting. For instance, do the pharmaceutical advertisements increase smokers' confidence because of the availability of this aid, or does the suggestion that you may need a pharmaceutical aid to quit smoking make the task seem more difficult and less achievable for some smokers?
* Thank you to Dr Tom Carroll who wrote the previous version of this document. Thank you also to Dr Sally Dunlop and Professor Melanie Wakefield for advice and comments on this section.