5.16
Smoking in movies, TV and other popular culture/media
Last updated April 2012
Seeing cigarettes in the hands of actors and actresses, on and off the screen, must have greatly contributed over the decades to the association of smoking with glamour, sexual appeal and romance, rebelliousness, independence and machismo. Smoking depicted in films rarely features real consequences of tobacco use, such as addiction, illness and death.1, 2
Viewing a movie was once a transient experience in the cinema, but in the twenty-first century films now have an indefinite shelf life and can be viewed repeatedly on broadcast or subscriber television or through rentals or downloads. Movies that portray some of the world's most famous and admired celebrities using tobacco products in a kaleidoscope of situations and settings are therefore likely to continue to evoke positive feelings about smoking for many decades to come.
This section summarises research that has attempted to quantify the extent of portrayals of smoking in popular culture, and the impact of such portrayals on attitudes to smoking and even to smoking uptake. Section 5.26 covers the various policies that have been proposed to address the powerful effects of smoking in movies and other forms of culture and entertainment.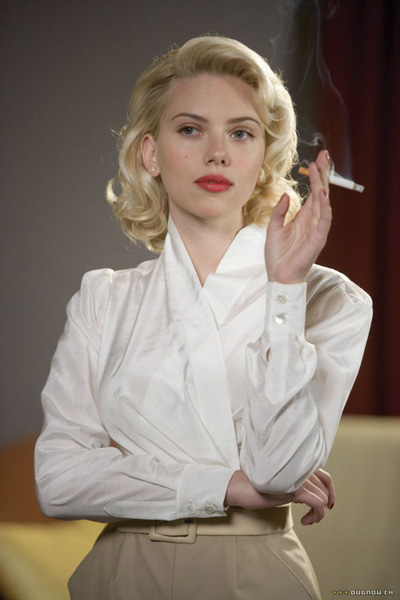 Figure 15.16.1
US actress, Scarlett Johansson, has frequently been seen smoking on and off screen
5.16.1
Quantifying smoking imagery in movies and other popular media
5.16.1.1
Movies (films)
While advertisements for cigarettes can no longer be shown in cinemas before movies, audiences are often exposed to pro-smoking imagery during the movie. The smoking by a lead character in the popular (and PG-rated) film Avatar is just one recent example that has generated concern among tobacco-control advocates and the wider public.3
Numerous studies have attempted to quantify the incidence of smoking in movies.2,4–8 The most common methodology used in these studies involves analysis of content over a particular period of time. Nearly all of these studies report a decline in smoking in movies over time, although the degree of observed decline is somewhat inconsistent due to differences in sampling densities, inter-coder reliability and time period covered.7 In a 2010 study that attempted to control for numerous methodological problems, tobacco content in movies was found to have declined considerably since 1950. While total tobacco-related content peaked around 1961, a decline in smoking portrayal among main characters was already underway by 1950.7 A UK study also found a significant drop in smoking depictions in movies over a 20-year period from 1989 to 2008.9
The most recent studies tend to report a continuing downward trend, but it has been argued that the depiction of smoking has declined more modestly in recent times,4,6 and not necessarily reflecting the degree of decline observed in actual population smoking prevalence. In a study of US movies, for example, one-third were found to represent adult tobacco use as more prevalent than it actually was in the US at the time of the films' release.4 It has also been noted that the degree of decline varies considerably by film rating classification, and by motion picture company.8 A decline in the number of onscreen tobacco incidents in youth-rated (G, PG or PG-13) top grossing movies was reported by the Thumbs Up! Thumbs Down! project, decreasing by 71.6% from 2093 incidents monitored in 2005 to 595 in 20108. By contrast, in an analysis of popular films released by the Motion Picture Association of America between 2007 and 2009, the prevalence varied markedly depending on film classification, with tobacco found to be present in 80% of the R (restricted) rated films reviewed, as compared to 64% of films rated as PG (parental guidance)-13 and 22% of films rated as G (general) or PG.10 Movies rate 'R' (by US rating) tend to be the films most popular among older teenage audiences.11 It should be noted that, in the US, an R rating means that viewers aged under 17 may only see the movie if accompanied by a parent or other adult guardian. The Australian MA rating is similar to the US R rating. Teenagers between the age of 15 and 18 are permitted to view MA-rated movies provided they are accompanied by a parent or guardian.
An alternative methodology for assessing smoking prevalence in movies and its relationship to adolescent smoking relies instead on young people's own reported perceptions of tobacco in movies.12 It is argued that one advantage of this is that it potentially captures exposure to movies or films that may not have fallen within the category analysed by content analysis studies (for instance movies that are not top grossing13).
5.16.1.2
Television
There is far less research on the amount of smoking imagery on television, although as a pervasive medium through which movies are also screened and viewed, much of the concern about smoking in movies also applies to television. Young people are exposed to smoking images through DVD and video rentals of both current and historical movie releases.1 Moreover, exposure can occur via movie trailers promoted on television, regardless of whether children and adolescents proceed to see the movie itself. In a US study examining the level of youth exposure to televised movie trailers that contained smoking imagery between August 2001 and July 2002, 14.4% of televised trailers were found to include images of tobacco use.14 When analysed by film classification, tobacco use was portrayed in 24% of the trailers for (US) R-rated movies and 7.5% of the trailers for PG-13 and PG-rated movies. Overall, the authors concluded that 95% of US youth aged 12–17 years saw at least one movie trailer depicting tobacco use on television during the study period, and nearly 90% at least three or more times.
Not only is the presence or amount of tobacco use portrayed on television a concern per se, but so too is the extent to which such portrayals may convey smoking in a positive or non- negative light. A New Zealand study of prime time television content found that one in four programs contained tobacco imagery, most of which might be regarded as 'neutral or positive'. This equated to two smoking scenes for every hour of programming.15 In an Australian content analysis of smoking portrayal in The Simpsons television series (first 18 episodes)16, 35% of the depicted instances of smoking (n=275) reflected smoking in a negative way; 63% in a neutral way (n=504) and 16.2% in a positive way (n=127). While the positive portrayals formed the minority, 16% is not insubstantial, and as the authors note, The Simpsons is an iconic and extremely popular show with children and adolescents, and has spawned a proliferation of merchandise that is directed at children.16 However they also noted that children and adolescent characters were far more likely to be involved in negative portrayals of smoking compared with adult characters.
While not documented in the literature, smoking content of TV or film can be influenced by current trends in movie genres, with the recent global popularity of the Mad Men series set in the 1960s and depicting most of the main characters almost continuously smoking a pertinent example.
5.16.1.3
Magazines
Magazines also expose young people to considerable pro-smoking imagery.17–19 While tobacco advertisements in Australian magazines were banned by federal legislation in 1992 (see Chapter 11, Section 11.3), research undertaken in Australia after this ban came into effect found that smoking imagery increased in magazines following the advertising ban.20 Incidental smoking imagery that can be found in magazines where overt advertising has been banned includes portrayals of smoking by celebrities in photographs, smoking in fashion spreads and photo shoots, and the presence of smoking in photographed images of events or everyday life.21
5.16.1.4
Smoking imagery in other forms of popular media
Internet
While not as extensively researched as smoking in movies, smoking imagery is widespread in other mediums, particularly on the Internet (including websites, video and music clips, Facebook and other social media). Pro-smoking imagery seen by young people via the Internet has been investigated in a number of studies.22, 23 A US study showed that youth exposure to pro-tobacco messages on the Internet increased over the period 2000–04, while decreasing on channels such as television, retail advertising and magazines. Internet exposure to pro-tobacco imagery was investigated objectively in a more recent study that installed internet tracking devices (with permission) on the home computers of 246 study participants.24 In the analysis of web pages accessed by participants, 43% of youth in Internet-using households were exposed on average to 13 pages of pro-tobacco tobacco per month, with social networking sites (e.g. MySpace, Xanga) representing 53% of the pages on which tobacco content was found. The study also found that a significant proportion of social networking pages (89%) included a profile identifying smoking status, with the authors noting that the very designation of smoking status in an interactive environment may potentially contribute to the promotion of smoking as a cultural norm.24
The difficulty of regulating the content of websites, the rapid rate at which new materials are uploaded to and disseminated via the Internet, and the increasingly participatory and consumer-generated content on the web raises some unique challenges from a tobacco-control perspective.21,25 Another complexity is that the Internet can be a medium for both pro- and anti-tobacco materials.23 For example, in a study looking at smoking-related content on YouTube videos,25 while pro-smoking imagery was more common in the sample of videos viewed, the anti-smoking-related videos had been viewed more (although this was attributed to a large extent to the popularity of a particular dark humour ad about smokers). As noted by the authors of this study, the Internet clearly presents new opportunities for the tobacco industry to use mediums such as YouTube as a covert form of tobacco promotion. The implications of this are at least two-fold for the tobacco-control field, the first being the need to consider and evaluate whether measures to restrict or 'rate' tobacco imagery on internet videos and other content are warranted, and second, for tobacco control itself to more strategically embrace and utilise YouTube and other such mediums as a vehicle for discouraging smoking.25
While of less direct relevance to Australia, where smokeless tobacco is banned, a US study of YouTube portrayals of smokeless tobacco use found a concerning preponderance of positive references to smokeless tobacco including its sensory attributes and social interaction.26 This study also found evidence of minors posting videos of smokeless tobacco use, with no evidence of age restrictions imposed on any of the video clips sampled. In another study of smokeless tobacco portrayals on YouTube videos undertaken in 2010,27 the researchers found that the majority of videos referring to smokeless tobacco were 'pro-smokeless tobacco' (74.4%) while only 15.4% were classified as 'against'.27
Concerns have also been raised about the potential for other forms of covert tobacco marketing via the Internet, including marketing techniques not necessarily covered by legislation, such as viral marketing, which can utilise the Internet (including social network sites) or mobile phones as a form of 'word of mouth' promotion.21 There has even been a suggestion that social network mediums are being used by employees within the tobacco industry for this purpose, with a recent paper by Freeman and Chapman28 finding that some employees of British American Tobacco (BAT) had promoted BAT and BAT brands on Facebook, including the posting of photographs of BAT events, products and promotional items.
Music video clips
Smoking is also featured in music videos made with the youth market in mind.17 A 1997 study found that music channels MTV, CMT, BET and VH1 featured tobacco use in between 11.9% and 25.7% of music videos with notable differences between music genres.29 Subsequent research by the US Office of National Drug Control Policy found that 21% of music videos portrayed tobacco use, with 18% of this explicit.30 Variation was again noted across the different channels BET (32%), VH1 (16%) and MTV (11%) and a further 6% of music videos featured smoke that might be attributed to tobacco or marijuana.30 In another study tobacco products were present in only 10% of the video clips sampled, with 80% of these depicting explicit use.31 These depictions also varied across the music genres rap/hip hop (13%), rock (14%), pop (10%) and rhythm and blues (0%).31
A recent study found that early exposure to music channels is associated with later increases in smoking and association with smoking peers, even after controlling for demographic, dispositional and parent behaviour variables.32 The researchers argue that music channels also influence youth smoking behaviour via the development of social identity, rather than solely through social cognitive processes.32
5.16.2
Has the promotion of smoking in movies been purposeful?
Directors of movies and TV productions often use smoking to denote particular characteristics–rebellious, risk-taking, or, in more recent times, working class or less well educated. While they may have the effect of promoting smoking, if no person involved with the film or production received any payment or other inducement to use a particular product then it is unlikely to constitute purposeful promotion of smoking and is certainly not a form of commercial promotion.
Despite publicly asserting that it has not and does not pay for product placement (paying a fee for a product to appear on screen) in movies, a study of internal tobacco industry documents does reveal a history of paid promotion.6,33,34 Examples include:
$350 000 to have Lark cigarettes appear in the James Bond movie License to Kill
$42 000 to place Marlboro cigarettes in Superman II
$30 000 to place Eve cigarettes in Supergirl
$5,000 to have Lucky Strike appear in Beverly Hills Cop
an agreement to pay a $500 000 fee to actor, Sylvester Stallone, to use Brown and Williamson products in five feature films.35
Product placement of tobacco products in movies is illegal in Australia under provisions of the Tobacco Advertising Prohibition Act 1992. In the US, where most motion pictures viewed in Australia are made, the 1998 Master Settlement Agreement prohibited tobacco manufacturers from paying to have their products shown in movies, television shows, music videos and video games.
In November 2006, Philip Morris USA issued a press release announcing that the company was asking that its brands no longer be displayed on screen and urged the movie industry to no longer use any tobacco products in films aimed at a youth audience.36 This campaign has been criticised as being an industry 'PR campaign' one aim of which may be to assist the company to skirt meaningful regulation.37
Many of the studies cited in this section have been undertaken post-Agreement, demonstrating that portrayal of smoking in movies remains common. However we are aware of no evidence of industry funding of product placement in Australia since the passage of the Tobacco Advertising Prohibition Act 1992, or in the US since the finalisation of the Master Settlement Agreement.
5.16.3
Does portrayal of smoking in movies and other forms of popular media influence smoking uptake?
5.16.3.1
What is the evidence that exposure to the portrayal of smoking in popular media contributes to uptake?
An accumulating body of research suggests that watching movies that portray smoking is a factor in initiation of smoking among young people, even after controlling for other variables known to influence the uptake of smoking behaviour.2,38–42 The depiction of tobacco and its use in entertainment media is recognised as a form of tobacco advertising in the WHO Framework Convention on Tobacco Control (WHO FCTC)43, and as noted in the implementation guidelines for Article 13 (tobacco advertising) of the WHO FCTC, 'the depiction of tobacco in entertainment media products, such as films, theatre and games, can strongly influence tobacco use, particularly among young people'.44
One of the most recently published studies analysed data from a large (n=5166) cohort study of UK adolescents aged 15 years. Higher exposure to smoking in films was associated with an increased risk of smoking initiation after adjustment for a variety of potential confounding factors (including social, family and behavioural factors), with risk increasing as degree of exposure to smoking in films increased.42
Several review articles have considered the evidence pertaining to the association between seeing smoking depictions in movies and adolescent smoking, all of which have concluded that there is an association with increases in smoking initiation.2,39,45,46 In a 2006 meta-analysis of 51 studies, exposure to tobacco use in films, television and videos was grouped with other forms of pro-tobacco marketing and media (tobacco advertising, promotions, samples), which were collectively found to be associated with increased odds of youth having positive attitudes toward tobacco use, and double the likelihood of smoking.47 These effects held for different time periods, different countries, different study designs and differing measures of exposure and outcome.47
A number of studies have attempted to quantify whether there is a dose–response relationship between exposure to smoking in movies and smoking initiation. In the most recent UK study, for example42, adolescents in the highest exposure quartile were 1.73 times more likely to initiate smoking than those in the lowest quartile. Dose–effect findings have been reported in a number of countries, including the US,39,40,48 Germany 49 and the UK.42, 50 A cross-country study of six European countries found that the exposure-related increase in the odds of smoking among adolescents exposed to smoking in films held across different cultural contexts and despite country variations in other tobacco-control measures.51
It has been argued that the type of movie being viewed matters. Several studies have investigated R-rated movies, which have been shown in several studies to be more likely to depict smoking.10, 52 In a large sample of Year 10 students in New Zealand, those who had or hadn't viewed (US) R-rated films were compared, and a clear dose–response relationship was observed between R-rated films and susceptibility to smoking among non-smokers, and with past experimentation and recent smoking, even controlling for other factors such as age, gender, ethnicity, peer smoking, parental smoking, socio-economic status, pocket money and household smoking rules.53
Several longitudinal or prospective studies have investigated what appears to be a potential lag effect, in which seeing smoking in movies in early childhood may influence later uptake.54 In a US prospective study, a cohort of young people aged 10–14 years who were identified at baseline as non-smokers were followed up 13–26 months later. Of those followed up, 52.2% of smoking initiation was attributed by the authors to exposure to smoking in movies.48 Further follow-up after seven years of the same cohort attributed 34.9% of established smoking to exposure to movie smoking, after controlling for baseline characteristics.54
These kinds of studies and findings are not without criticism in the literature.55, 56 In particular there are concerns that smoking may in fact be just one of a constellation of movie characteristics that have broad appeal to children attracted to such films.57 In other words, smoking depictions may not be independently predictive of smoking among youth.55, 56, 58
While the majority of studies have focused on the impact on children or younger adolescents, several studies have sought to look at the impact on older adolescents or young adults. The findings are more mixed. For example, a Scottish study of smoking prevalence at 19 years of age found smoking status not to be associated with exposure to smoking in movies.59 A Scottish study with young people aged 15–16 years involving a number of the same researchers did report a significant association.50 The diminishing impact with age is supported by the findings of a recently published study by Choi and colleagues, which investigated the prospective effect of perceived prevalence of smoking in movies on smoking status among a large sample of young people aged 12–18 years in Minnesota.12 This study found that perceived prevalence of smoking in movies was most likely to predict subsequent smoking status for adolescents aged between 13.5 and 15.5 years, diminishing thereafter.
Some tobacco-control advocates have used such evidence to support calls for restricted ratings on movies with tobacco content;60, 61 however there is some contention regarding the appropriateness of this even within the tobacco-control literature.56 (See Section 5.26.4 for further discussion.)
5.16.3.2
What is the mechanism through which movies may link to smoking?
In a review examining the effects of depictions of smoking in the media (including smoking occurring in movies, television programming and news coverage, as well as traditional direct forms of tobacco advertising and promotion and pro-health messages) on young people, Wakefield and colleagues identify a number of ways in which it may influence smoking behaviour (or the decision not to smoke):17
by shaping and reflecting social values about smoking
by communicating new information about smoking
through offering models of behaviour
by directly reinforcing smoking (or non-smoking) behaviour
by prompting discussion and debate about smoking
by influencing other 'intervening' factors that help shape the decision to smoke or not to smoke (for example by making older smokers less willing to give cigarettes to young people)
by shaping societal attitudes and influencing the broader regulatory climate.
Although smoking behaviour has become more commonly associated with the antagonists ('bad guys') in US movies,11 this does not necessarily make smoking unappealing. It is not even necessarily important that lead characters be shown smoking, since 'background' smoking still teaches adolescents about how, when and where to smoke.62 Even though specific brands may not be identified, it has been argued that positive imagery associated with smoking can potentially be even more powerful than explicit tobacco advertising, and can help reinforce a smoker's identity.18 Imagery does not have to be overtly pro-smoking to have an influence on young people21–for instance in a Western Australian study, school students were shown a range of smoking imagery in print and other media, and were found to identify with the social and stress-relieving aspects of smoking despite being aware of its harmful effects.63 And in an Australian randomised controlled trial assessing the impact of smoking images in magazines on smokers and non-smokers aged 14–17 years, it was found that that seeing the imagery acted as a prompt to smoke and as a reinforcement of smoking behaviour.19
Smoking in movies may also influence social norms and normative beliefs about smoking. For instance, a study by Sargent and colleagues found that among young children in particular (9–15 years), higher exposure to smoking in movies was associated with higher perceived prevalence of adult smoking in the community.64 Similarly, a 2005 systematic review of the relationship between smoking in movies and adolescent smoking also noted that the depiction of smoking in movies can increase perceptions of smoking prevalence, and rarely shows the negative health consequences associated with smoking.2
Most of the research and advocacy to date has been couched in terms of the depiction of smoking in movies per se; however there is also a potential ripple effect associated with the portrayal of smoking by popular movie stars. For example, one study found that teenagers whose favourite stars smoked on the big screen were three times more likely to smoke than those whose favourite stars do not smoke.41 In another study, adolescents who smoked were more likely to find smoking characters in films attractive.65
Other contextual factors related to movie or TV viewing have also been implicated in the association between on-screen portrayals of tobacco and adolescent smoking uptake or attitudes. Environmental factors include factors associated with the home environment, such as having an unsupervised television in the bedroom, which have been shown to be significant predictors of smoking uptake in white adolescents.52 Also related to the home environment, it has been found that adolescents who report parental rules about TV/film watching were less likely to smoke than those who did not, while those who mainly watched films with friends had higher exposure to film smoking and were more likely to smoke.50
5.16.3.3
How robust is the evidence?
While the general consensus from published evidence reviews and individual studies supports the association between smoking in movies and adolescent smoking, some criticism has emerged even within the tobacco-control field regarding inferences of explicit causality and the tendency for many studies to oversimplify the relationship by not taking into account other interrelated factors.55, 56 As argued by Chapman and Farrelly in a recent paper, the relationship is more 'muddy' than many studies acknowledge, as 'smokers in movies never just smoke. And movies showing smoking have a lot more in them that might appeal to youth at risk of smoking than just smoking' (p156, p 1) For instance, young people who choose or are allowed to watch movies containing smoking but also other adult content (such as violence, nudity and swearing) may differ from those who don't, and this may be associated in differences in smoking initiation.66
The difficulty of disentangling such potential influences was demonstrated in a US study that examined exposure in top-grossing films to smoking and three other types of adult content (sex/nudity, violence/gore, profanity) in a sample of youth aged 13–16 years. The study found that although exposure to smoking in movies was correlated with both smoking initiation and susceptibility, there was also a very high correlation between exposure to smoking in the movies and other adult content, rendering it impossible to disentangle their separate influence.66 More recent studies have tended to be more comprehensive in this regard, and in some instances it does alter the significance of findings. For example, in Waylen and colleagues' study of British teens, smoking initiation was associated with exposure to depiction of smoking in films, but the association with current smoking attenuated after the researches adjusted also for behavioural factors.42
Suggestions for future studies to address some of these limitations include greater consideration of the type of movies viewed by those more at risk of smoking56 and more research to disentangle the independent influence on smoking separate to other correlated content.66
There may also be a more subtle and difficult-to-measure constellation of other influencing factors in movies depicting smoking that may resonate with young people more at risk of smoking (including hard to quantify variables such as attitude conveyed by characters, notions of fashion, irreverence and other rebellious behaviours engaged in or endorsed). These factors are rarely, if ever, considered in studies to date,56 and while complex to measure or analyse, should at least be acknowledged in study limitations.
Another concern raised by Chapman and Farrelly56 about some of the studies relating to smoking in movies to date, is the reductionist approach to extrapolating the number of youth smoking initiations that could be prevented, or lives saved, if smoking was removed from movies. Given the many factors that influence youth smoking, and the variety of other day-to-day contexts in which young people may witness smoking or smoking imagery (family, public settings, by peers, Internet, etc.), they argue that it is misleading to try to isolate the relative influence of smoking in movies as though operating in isolation.56
In extrapolating findings from other countries to Australia it is important to consider contextual issues, such as international variations in the way films are classified. For instance, a UK study found that British youths were exposed to 28% more smoking impressions in UK youth-rated movies than US youth-rated movies, because 79% of movies rated for adults in the US are classified as suitable for youths in the UK, reflecting the less conservative nature of film classification in the UK.67 In Australia the rating system is different again, with an M (mature) rating, which falls between the ratings of PG and MA15+. The M rating category in Australia actually captures many of the movies popular with young people, and which may receive an R rating in the US, where there is no equivalent 'M' category. BladeRunner and The King's Speech are two examples of films released as M in Australia but as R in the US. It is likely that parents in Australia, while happy to allow young teenagers to watch M-rated movies, are more careful about their exposure to movies rated MA. If the Australian rating system has more credibility with parents than the system in the US (where just about every teen movie is rated R), then it is possible that the average age of viewers exposed to smoking portrayals in movies is somewhat higher in Australia than it is in the US–see Table 5.16.2.
Section 5.26 covers the various educational initiatives and regulatory measures that have been proposed to address the problem of smoking in movies.
Table 5.16.2
Comparison of motion picture rating systems in English-speaking countries
Australian Classification Board established under the Classification (Publications, Films and Computer Games) Act 1995
– see http://www.comlaw.gov.au/Series/C2004A04863
The Classification Board and Classification Review Board are government-funded organisations which classifies all films that are released for public exhibition.

Notes

G

PG

M

MA15+

R18+/
X18+

RC

MA15+ and R18+ are legally restricted. X18+ is banned in all states of Australia except for the territories. RC (Refused Classification) is banned publicly but can be viewed privately.

Office of Film and Literature Classification established under the Films, Videos, and Publications Classification Act 1993
– see http://www.legislation.govt.nz/act/public/1993/0094/latest/DLM312895.html?search=ts_act_films%2c+videos_resel&sr=1
The Films, Videos, and Publications Classification Act 1993 gives the Office of Film and Literature Classification (New Zealand) the power to classify publications into three categories: unrestricted, restricted, or "objectionable". With a few exceptions, films, videos, DVDs and restricted computer games must carry a label before being offered for supply or exhibited to the public.

Notes

G

PG

R13/R16/R16

R18

N/A

All ages may watch an M title, but parents are advised that the content is more suitable for mature people 16 years and over. Nobody under the given age can legally see an R rated film, although sometimes an RP rating is provided meaning that those under the given age must watch under adult supervision.

M

Canadian Home Video Rating System, a voluntary system operated by the Motion Picture Association of Canada
– see http://www.mpa-canada.org/?q=content/film-classification-boards
Movie ratings in Canada are a provincial responsibility, and each province has its own legislation, rules and regulations regarding rating, exhibition and admission. Ratings are required for theatrical showings of movies, but are not required for home video. Film festivals which show unrated films (because they are independent films or foreign films not submitted for ratings) are treated as private showings by selling memberships to the festival, which circumvents the theatrical rating requirement.
There are currently six film classification offices rating movies in Canada, each an agency of a provincial government: in British Columbia, Saskatchewan and the Yukon, the British Columbia Film Classification Office; in Alberta, the Northwest Territories and Nunavut, Alberta Film Ratings; in Manitoba, the Manitoba Film Classification Board; in Ontario, the Ontario Film Review Board; in Quebec, la Régie du cinéma du Québec; in Nova Scotia, New Brunswick and Prince Edward Island, the Maritime Film Classification Board.
Six film classification offices:
British Columbia Film Classification Office http://www.bcfilm.net/ID15836
Alberta Film Ratingshttp://www.albertafilmratings.ca/
Manitoba Film Classification Board http://www.gov.mb.ca/chc/mfcb/
Ontario Film Review Board http://www.ofrb.gov.on.ca/english/default.htm
Maritime Film Classification Board http://www.gov.ns.ca/snsmr/access/alcohol-gaming/theatres-amusements/film-video.asp
In Quebec, La Regie du Cinema http://www.rcq.gouv.qc.ca/
The province of Newfoundland and Labrador has not legislated on film ratings and does not have a dedicated agency; some theatres use the ratings of the Maritime Film Classification Board.

Notes

G

PG

14A

18A and R

AA

The 18A rating was introduced because a few films were too strong for the 14A rating but did not have enough violence or sexual content to get banned or A rated.

A

British Board of Film Classification http://www.bbfc.co.uk/ an independent, self-financing and not-for-profit media content regulator
– see http://www.bbfc.co.uk/about/mission-statement/
The British Board of Film Classification (BBFC) rates both motion pictures and videos (and an increasing number of video games). The rating system was introduced in 1913 and, as of 1985, also rates videos. County authorities are ultimately responsible for film ratings for cinema showings in their area. County Councils often ignore the BBFC advised rating and rate films with another BBFC certificate in their county only, e.g.: the BBFC rates a film as 15 but the County council gives the film a 12A rating in their county. Rating certificates from the BBFC are not legally binding whereas those for videos are. British cinemas generally stick closely to the policy of ratings and a young person may often be asked for proof of age if deemed younger than the rating.

Notes

U

PG

12A/12

15

18/R18

Rejected

12A legally requires parental supervision for those under 12. 15 does not allow people below that age to be admitted, supervised or otherwise. R18 is usually reserved for pornographic content only, but, on rare cases, the cert has been given out to programs with extreme graphic violence/gore. Films marked "Rejected" are banned.

Irish Film Classification Office administers the CENSORSHIP OF FILMS ACT, 1923.

Notes

G

12/12A

15/15A/16

18

N/A

The categories 12A, 15A and 16 only exist for cinema. Video releases of movies with these ratings usually get, if they are rated 12A, they are rated 12, if they are rated 15A, they are rated 15, and if rated 16, they are rated 18.

Motion Picture Association of America, Classification and Rating Administration
In the United States, the Motion Picture Association of America (MPAA), through the Classification and Rating Administration (CARA), issues ratings for movies. The system was instituted in November 1968 and is voluntary; however, most movie theater chains will not show unrated domestic films and most major studios have agreed to submit all titles for rating prior to theatrical release.

Notes

G

PG

PG-13

R

NC-17

NR (not rated) Unrated

NC-17 means those who are 17 or under are not allowed in, thus one must be 18 or over for admittance. NR and Unrated cannot be viewed in theaters, however, can be broadcasted on Television and/or released on Home Video.
Sources: Wikipedia68 and websites of Australian Classification Board,69 New Zealand Office of Film and Literature Classification,70 Motion Picture Association of Canada's Home Video Rating System,71 British Board of Film Classification,72 Irish Film Classification Board73 and the Classification and Rating Administration of the Motion Picture Association of America74
Relevant news and research
For recent news items and research on this topic, click
here
.
(Last updated May 2019)
References
1. Sargent J and DiFranza J. Tobacco control for clinicians who treat adolescents. CA Cancer Journal for Clinicians 2003;53(2):102-23. Available from: http://caonline.amcancersoc.org/cgi/reprint/53/2/102
2. Charlesworth A and Glantz SA. Smoking in the movies increases adolescent smoking: a review. Pediatrics 2005;116:1516-28. Available from: http://pediatrics.aappublications.org/cgi/content/abstract/116/6/1516
3. Lyons A and Britton J. Protecting young people from smoking imagery in films: whose responsibility? Thorax 2011;66(10):844-846. Available from: http://www.ncbi.nlm.nih.gov/pubmed/21933946
4. Worth K, Dal Cin S and Sargent J. Prevalence of smoking among major movie characters: 1994-2004. Tobacco Control 2006;15:442-6. Available from: http://www.ncbi.nlm.nih.gov/pubmed/17130372
5. Kacirk K and Glantz S. Smoking in movies in 2000 exceeded rates in the 1960s. Tobacco Control 2001;10:397-8. Available from: http://tobaccocontrol.bmj.com/cgi/reprint/10/4/397
6. Mekemson C, Glik D, Titus K, Myerson A, Shaivitz A, Ang A, et al. Tobacco use in popular movies during the past decade. Tobacco Control 2004;13:400-2. Available from: http://tobaccocontrol.bmj.com/cgi/reprint/13/4/400
7. Jamieson PE and Romer D. Trends in US movie tobacco portrayal since 1950: a historical analysis. Tobacco Control 2010;19(3):179. Available from: http://tobaccocontrol.bmj.com/content/19/3/179.abstract
8. Glantz S, Titus K, Mitchell S, Polansky J and Kaufmann R. Smoking in top-grossing movies–United States, 1991–2009. MMWR Morb Mortal Wkly Rep 2010;59(32):1014-1017. Available from: http://www.medscape.com/viewarticle/727552
9. Lyons A, McNeill A, Chen Y and Britton J. Tobacco and tobacco branding in films most popular in the UK from 1989 to 2008. Thorax 2010;65(5):417. Available from: http://thorax.bmj.com/content/65/5/417.abstract
10. Polansky J, Titus K and Glantz SA. Two years later: Are MPAA's tobacco labels protecting movie audiences? 2009 Available from: http://escholarship.org/uc/item/5sr9w2s1#page-1
11. Omidvari K, Lessnau K, Kim J, Mercante D, Weinacker A and Mason C. Smoking in contemporary American cinema. Chest 2005;128:746-54. Available from: http://www.chestjournal.org/cgi/reprint/128/2/746
12. Choi K, Forster J, Erickson D, Lazovich DA and Southwell BG. The reciprocal relationships between changes in adolescent perceived prevalence of smoking in movies and progression of smoking status. Tobacco Control 2011 Available from: http://www.ncbi.nlm.nih.gov/pubmed/21828229
13. Glantz S, Titus K, Mitchell S, Polansky J and Kaufmann R. Smoking in top-grossing movies--United States, 1991-2009. MMWR. Morbidity and Mortality Weekly Report 2010;59(32):1014–7. Available from: http://www.cdc.gov/mmwr/preview/mmwrhtml/mm5932a2.htm
14. Healton C, Farrelly MC, Weitzenkamp D, Lindsey D and Haviland ML. Youth smoking prevention and tobacco industry revenue. Tobacco Control 2006;15(2):103–6. Available from: http://tc.bmjjournals.com/cgi/content/abstract/15/2/103
15. McGee R and Ketchel J. Tobacco imagery on New Zealand television 2002-2004. Tobacco Control 2006;15(5):412–4. Available from: http://tc.bmjjournals.com/cgi/content/abstract/15/5/412
16. Eslick G and Eslick M. Smoking and the Simpsons. Medical Journal of Australia 2009;190(11):637–9. Available from: http://www.mja.com.au/public/issues/190_11_010609/esl11205_fm.html
17. Wakefield M, Flay B, Nichter M and Giovino G. Role of the media in influencing trajectories of youth smoking. Addiction 2003;98 i79-103.
18. MacFadyen L, Amos A, Hastings G and Parkes E. 'They look like my kind of people'--perceptions of smoking images in youth magazines. Social Science & Medicine 2003 56:491-9. Available from: http://www.ncbi.nlm.nih.gov/pubmed/12570969
19. Carter OBJ, Donovan RJ, Weller NM and Jalleh G. Impact of smoking images in magazines on the smoking attitudes and intentions of youth: an experimental investigation. Tobacco Control 2007;16(6):368-72. Available from: http://tobaccocontrol.bmj.com/cgi/content/abstract/16/6/368
20. Chapman S, Jones Q, Bauman A and Palin M. Incidental depiction of cigarettes and smoking in Australian magazines, 1990–1993. Australian journal of public health 1995;19(3):313-315.
21. BMA Board of Science. Forever cool: the influence of smoking imagery on young people. British Medical Association, 2008. Available from: http://www.management.stir.ac.uk/about-us/?a=19777
22. Hong T and Cody MJ. Presence of pro-tobacco messages on the Web. Journal of Health Communication 2002;7(4):273-307. Available from: http://www.ncbi.nlm.nih.gov/pubmed/12356288
23. Ribisl K. The potential of the internet as a medium to encourage and discourage youth tobacco use. Tobacco Control 2003;12(suppl. 1):i48. Available from: http://www.ncbi.nlm.nih.gov/pubmed/12773785
24. Jenssen B, Klein J, Salazar L, Daluga N and Diclemente R. Exposure to tobacco on the internet: content analysis of adolescents' internet use. Pediatrics 2009;124(2):e180-6. Available from: http://www.ncbi.nlm.nih.gov/pmc/articles/PMC2818533/
25. Freeman B and Chapman S. Is 'YouTube' telling or selling you something? Tobacco content on the YouTube video-sharing website. Tobacco Control 2007;16:207-10. Available from: http://tobaccocontrol.bmj.com http://tobaccocontrol.bmj.com/cgi/reprint/16/3/207
26. Seidenberg AB, Rodgers EJ, Rees VW and Connolly GN. Youth Access, Creation, and Content of Smokeless Tobacco ("Dip") Videos in Social Media. Journal of Adolescent Health 2011(0) Available from: http://www.sciencedirect.com/science/article/pii/S1054139X11003132
27. Bromberg JE, Augustson EM and Backinger CL. Portrayal of Smokeless Tobacco in YouTube Videos. Nicotine & Tobacco Research 2011 Available from: http://ntr.oxfordjournals.org/content/early/2011/11/25/ntr.ntr235.abstract
28. Freeman B and Chapman S. British American Tobacco on Facebook: undermining article 13 of the global World Health Organization Framework Convention on Tobacco Control. Tobacco control 2010;19(3):e1.
29. DuRant RH, Rome ES, Rich M, Allred E, Emans SJ and Woods ER. Tobacco and alcohol use behaviors portrayed in music videos: a content analysis. American Journal of Public Health 1997;87(7):1131. Available from: http://www.ncbi.nlm.nih.gov/pubmed/9240102
30. Roberts D, Christenson P, Henrikson L and Bandy E. Substance Abuse in Popular Music Videos. Washinton D.C: Office of National Drug Control Policy, 2002. Available from: http://www.scenesmoking.org/research/SubstanceUseIinMusic.pdf
31. Gruber EL, Thau HM, Hill DL, Fisher DA and Grube JW. Alcohol, tobacco and illicit substances in music videos: a content analysis of prevalence and genre. Journal of Adolescent Health 2005;37(1):81-83. Available from: http://www.ncbi.nlm.nih.gov/pubmed/15963915
32. Slater MD and Hayes AF. The Influence of Youth Music Television Viewership on Changes in Cigarette Use and Association With Smoking Peers: A Social Identity, Reinforcing Spirals Perspective. Communication Research 2010;37(6):751. Available from: http://www.ncbi.nlm.nih.gov/pubmed/21318085
33. Popular documents: Smoking in movies. Legacy Tobacco Documents Library, 2007 [viewed 28 April 2007]. Available from: http://legacy.library.ucsf.edu/popular_documents_movies.html
34. Mekemson C and Glantz S. How the tobacco industry built its relationship with Hollywood. Tobacco Control 2002;11(suppl. 1):i81-91. Available from: http://tobaccocontrol.bmj.com/cgi/reprint/11/suppl_1/i81
35. Cancer Council NSW. Action on smoking in movies. Sydney: Cancer Council NSW, 2005 [viewed 25 April 2007] . Available from: http://www.cancercouncil.com.au/editorial.asp?pageid=1070
36. Philip Morris USA. Philip Morris USA supports eliminating its brand imagery in movies. Philip Morris USA, 2006 Last modified November 2006 [viewed 6 May 2007] . Available from: http://www.philipmorrisusa.com/en/about_us/news_media/pressroom/press_releases/articles/pr_11_14_2006_philip_morris_usa_asks_please_dont_give_our_cigare.asp
37. Smoke Free Movies. It's what Philip Morris doesn't say about movies that counts. Smokefree Movies, 2007 [viewed 27 April 2007] . Available from: http://www.smokefreemovies.ucsf.edu/problem/PM_doesnt_say.html
38. Titus-Ernstoff L, Dalton MA, Adachi-Mejia A, Longacre M and Beach M. Longitudinal study of viewing smoking in movies and initiation of smoking by children. Pediatrics 2008;121:15-21. Available from: http://pediatrics.aappublications.org/cgi/reprint/121/1/15
39. Sargent J, Beach M, Adachi-Mejia A, Gibson J, Titus-Ernstoff L, Carusi C, et al. Exposure to movie smoking: its relation to smoking initiation among US adolescents. Pediatrics 2005;116:1183-91. Available from: http://pediatrics.aappublications.org/cgi/reprint/116/5/1183
40. Sargent J, Beach M, Dalton M, Mott L, Tickle J, Ahrens M, et al. Effect of seeing tobacco use in films on trying smoking among adolescents: cross sectional study. British Medical Journal 2001;323:1394-7. Available from: http://www.bmj.com/cgi/reprint/323/7326/1394
41. Tickle JJ, Sargent JD, Dalton MA, Beach ML and Heatherton TF. Favourite movie stars, their tobacco use in contemporary movies, and its association with adolescent smoking. Tobacco Control 2001;10(1):16-22. Available from: http://tobaccocontrol.bmj.com/cgi/content/abstract/10/1/16
42. Waylen AE, Leary SD, Ness AR, Tanski SE and Sargent JD. Cross-sectional association between smoking depictions in films and adolescent tobacco use nested in a British cohort study. Thorax 2011;66(10):856-61. Available from: http://thorax.bmj.com/content/66/10/856.abstract
43. WHO. Conference of the Parties to the WHO Framework Convention on Tobacco Control. Draft guidelines on the implementation of article 13 (tobacco advertising, promotion and sponsorship). Geneva: World Health Organization, 2008. Available from: http://www.who.int/gb/fctc/PDF/cop3/FCTC_COP3_9-en.pdf
44. World Health Organization (WHO). Smoke-free movies: from evidence to action. Geneva: WHO 2009. Available from: http://whqlibdoc.who.int/publications/2009/9789241597937_eng.pdf
45. Charlesworth A and Glantz S. Tobacco and the movie industry. Clinics in Occupational and Environmental Medicine 2006;5(1):73-84. Available from: http://www.ncbi.nlm.nih.gov/pubmed/16446255
46. Sargent J. Smoking in film and impact on adolescent smoking: with special reference to European adolescents. Minerva Pediatrica 2006;58(1):27-45. Available from: http://www.ncbi.nlm.nih.gov/pubmed/16541005
47. Wellman RJ, Sugarman DB, DiFranza JR and Winickoff JP. The extent to which tobacco marketing and tobacco use in films contribute to children's use of tobacco: a meta-analysis. Archives of Pediatrics and Adolescent Medicine 2006;160(12):1285. Available from: http://archpedi.ama-assn.org/cgi/content/abstract/160/12/1285
48. Dalton MA, Sargent JD, Beach ML, Titus-Ernstoff L, Gibson JJ, Ahrens MB, et al. Effect of viewing smoking in movies on adolescent smoking initiation: a cohort study. The Lancet 2003;362(9380):281-285. Available from: http://homepage1.nifty.com/tobikko/WS3references/Volume%20362%20Issue%209380%20Page%20281.pdf
49. Sargent JD and Hanewinkel R. Comparing the effects of entertainment media and tobacco marketing on youth smoking in Germany. Addiction 2009;104(5):815–23. Available from: http://www.ncbi.nlm.nih.gov/pubmed/19413793
50. Hunt K, Henderson M, Wight D and Sargent JD. Exposure to smoking in films and own smoking among Scottish adolescents: a cross-sectional study. Thorax 2011;66(10):866-74. Available from: http://thorax.bmj.com/content/66/10/866.abstract
51. Morgenstern M, Poelen EAP, Scholte R, Karlsdottir S, Jonsson SH, Mathis F, et al. Smoking in movies and adolescent smoking: cross-cultural study in six European countries. Thorax 2011;66(10):875-883. Available from: http://www.ncbi.nlm.nih.gov/pubmed/21873322
52. Jackson C, Brown J and L'Engle K. R-rated movies, bedroom televisions, and intiation of smoking by white and black adolescents. Archives of Pediatric Adolescent Medicine 2007;161:260-8. Available from: http://www.ncbi.nlm.nih.gov/pubmed/17339507
53. Laugesen M, Scragg R, Wellman RJ and DiFranza JR. R-rated film viewing and adolescent smoking. Preventive Medicine 2007;45(6):454-459. Available from: http://www.sciencedirect.com/science/article/pii/S0091743507003209
54. Dalton MA, Beach ML, Adachi-Mejia AM, Longacre MR, Matzkin AL, Sargent JD, et al. Early exposure to movie smoking predicts established smoking by older teens and young adults. Pediatrics 2009;123(4):e551–8. Available from: http://pediatrics.aappublications.org/cgi/content/full/123/4/e551
55. Chapman S and Davis R. Smoking in movies: is it a problem? Tobacco Control 1997;6(4):269–71. Available from: http://www.pubmedcentral.nih.gov/picrender.fcgi?artid=1759590&blobtype=pdf
56. Chapman S and Farrelly M. Four arguments against the adult-rating of movies with smoking scenes. PLoS Medicine 2011;8(8):e1001078. Available from: http://www.ncbi.nlm.nih.gov/pubmed/21886487
57. Chapman S. Australia: British American Tobacco 'addresses' youth smoking. Tobacco Control 2007;16(1):2-3. Available from: http://tobaccocontrol.bmj.com/cgi/reprint/16/1/2-a
58. Chapman S. What should be done about smoking in movies? Tobacco Control 2008;17(6):363-7. Available from: http://tobaccocontrol.bmj.com/cgi/content/full/17/6/363
59. Hunt K, Sweeting H, Sargent J, Lewars H, Cin S and Worth K. An examination of the association between seeing smoking in films and tobacco use in young adults in the west of Scotland: cross-sectional study. Health Education Research 2008;24(1):22–31. Available from: http://her.oxfordjournals.org/content/24/1/22.long
60. Millett C and Glantz SA. Assigning an '18'rating to movies with tobacco imagery is essential to reduce youth smoking. Thorax 2010;65(5):377-378.
61. Millett C, Polansky J and Glantz S. Government inaction on ratings and government subsidies to the US film industry help promote youth smoking. PLoS Medicine 2011;8(8):e1001077. Available from: http://www.ncbi.nlm.nih.gov/pubmed/21886486
62. Nichter M. Smoking: what does culture have to do with it? Addiction 2003;98:i139-45. Available from: http://www.ncbi.nlm.nih.gov/pubmed/12752366
63. Watson N, Clarkson J, Donovan R and Giles-Corti B. Filthy or fashionable? Young people's perceptions of smoking in the media Health Education Research 2003;18:554-67. Available from: http://her.oxfordjournals.org/content/18/5/554.full.pdf+html
64. Sargent JD, Dalton MA, Beach ML, Mott LA, Tickle JJ, Ahrens MB, et al. Viewing tobacco use in movies: does it shape attitudes that mediate adolescent smoking? . American Journal of Preventive Medicine 2002;22(3):137-145. Available from: http://www.ncbi.nlm.nih.gov/pubmed/11897456
65. Hanewinkel R, Isensee B, Maruska K, Sargent J and Morgenstern M. Denormalising smoking in the classroom: Does it cause bullying? Journal of Epidemiology and Community Health 2009;64(3):202–8. Available from: http://jech.bmj.com/content/64/3/202.long
66. Farrelly M, Kamyab K, Nonnemaker J and Crankshaw E. Movie smoking and youth initiation: parsing smoking imagery and other adult content. Social Science Research Network. Social Science Research Network. Available: http://papers. ssrn. com/sol3/papers. cfm 2011 Available from: http://papers.ssrn.com/sol3/papers.cfm?abstract_id=1799561
67. Anderson SJ, Millett C, Polansky JR and Glantz SA. Exposure to smoking in movies among British adolescents 2001-2006. Tobacco Control 2010;19(3):197-200. Available from: http://tobaccocontrol.bmj.com/content/19/3/197.abstract
68. Unknown. Motion picture rating system. Wikipedia, 2012 Last modified 1 March 2012 [viewed 1 March 2012] . Available from: http://www.classification.gov.au/www/cob/classification.nsf/Page/Home
69. Australian Government. Classification website. Canberra: Commonwealth of Australia, 2012 [viewed 1 March 2012] . Available from: http://www.classification.gov.au/www/cob/classification.nsf/Page/Home
70. Office of Film & Literature Classification. Website. Wellington: Government of New Zealand, 2012 Last modified 22 November 2011 [viewed 1 March 2012] . Available from: http://www.censorship.govt.nz/
71. Motion Picture Association - Canada. Home entertainment classification. Toronto: MPAC, 2012 [viewed 1 March 2012] . Available from: http://www.mpa-canada.org/?q=content/home-entertainment-classification
72. British Board of Film Classification. Classification guidelines. London: BBFC, 2012 [viewed 1 March 2012] . Available from: http://www.bbfc.co.uk/classification/guidelines/
73. Irish Film Classification Office. Website. Dublin: IFCO, 2012 [viewed 1 March 2012] . Available from: http://www.ifco.ie/website/ifco/ifcoweb.nsf/web/about?opendocument&type=graphic
74. The Classification and Rating Administration. Film ratings.com. Washington: Motion Picture Association of America, 2012 [viewed 1 March 2012]. Available from: http://www.filmratings.com/filmRatings_Cara/#/home/